Review of Audiobooks iPhone App - Free Audiobooks on Your iPhone
What Audiobooks Can Do? (3 out of 5)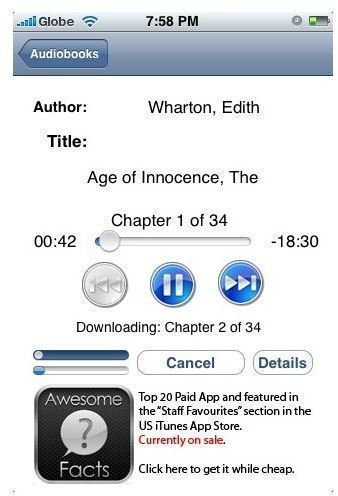 Audiobooks allows you to discover audio books that are in the US public domain, meaning download is no longer restricted. Getting its content from popular book site LibriVox, Audiobooks allows you to download public domain audio books and listen immediately to the downloaded first chapter of the book while the app continues to download the remaining chapters.
Audiobooks features a simple but intuitive interface. Upon firing up the app, you will be presented with two options (three options if it is not your first time to use the app): Discover, Enjoy (My Library) and the Queue tab where you can find all the audio books that have not finished downloading yet.
Under the Discover tab, you can browse audio books by Authors, Titles, Most Popular and Surprise Me. This queries the LibriVox audio book catalog and gives you a list of available books in alphabetical order. When you tap on a specific author or title entry, the app will display the author/title information as well as a brief description of the audiobook its file size and running time. You can quickly trigger the app to download the audio book by tapping on the ``Play'' tab. Once you tap on the Play tab, you will then be presented with a new screen, this time containing three buttons that will instruct the app to start downloading the audio book. Once a chapter has been downloaded you can start listening to it by tapping the ``Play'' icon.
Downloading audio books using this app is pretty fast when your iPhone is connected over WiFi. Unfortunately, the download does not work over a 3G connection. Although, I'm pretty sure you wouldn't want to download megabytes of content using your iPhone data provider as it would certainly cost you too much.
The app also does automatic bookmarking of pages in the audio book so you can easily go back to where you stopped reading the last time you used the app.
Our Verdict (4 out of 5)
Audiobooks is certainly a great application especially if you are so into audio books. The quantity of audio books available may not be that many yet, but I'm pretty sure that this will grow in time. If you are just beginning to get into the habit of listening to audio version of books instead of reading the printed version, Audiobooks is certainly a must-have iPhone app.
Image credit:
Screenshots of Audiobooks by Cross Forward Consulting.