Free iPhone App Review: Mover iPhone App Review
What Mover iPhone App Can Do? (3 out of 5)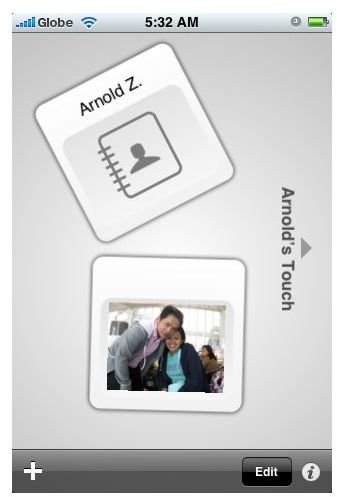 Remember than days of connecting two phones wirelessly over IR or Bluetooth? Well, Mover works similarly but in a faster and easier way. Mover lets you send something to the iPhone right next to you without the hassle of setting up a Bluetooth connection. All you need is to connect both iPhones in the same shared network and you start swiping files towards another iPhone.
This free iPhone app lets you transfer images and contacts to another iPhone using your finger to hold what ever you wish to transfer and then flick them off to transfer.
Another great feature of Mover iPhone app is the fact that it automatically saves files as soon as they arrived at the destination iPhone. Even more fun is the fact that it saves files in the appropriate application that can read them. So, you can immediately delete it from your iPhone's main screen without worrying about accidentally deleting them without saving files.
While Mover may seem a pretty powerful iPhone app, it is not without flaw. Most noticeable of which is the one file at a time sending feature. It would have been better if multiple files can be sent simultaneously.
And how about the transfer speed? Well basically, it depends on the size of the file that you are going to transfer. Obviously, the smaller the file size the faster it would be transferred to another iPhone. The speed of your WiFi connection also affects the transfer speed of files.
Our Verdict (4 out of 5)
For all its worth, and being a free iPhone app, Mover is undeniably a nifty and useful iPhone utility. File transfer is smooth and transfer files as quickly as possible. Mover is also a very light application that won't occupy too much space in your iPhone's storage. The app takes only a little less than 1MB space in your iPhone. Best of all Mover is a free, so you can easily removed it from your iPhone in case you didn't like what it can do. Although, I'm pretty sure that once you've installed this app, it will stay on your iPhone for good.
The Mover app also supports the transfer of files from the iPhone to another Wi-Fi enabled mobile phone. Although it would have been better if file transfer can be done through 3G connectivity as well.
Needless to say, this app is a must have for your iPhone.
Image credit:
Screenshot of Mover by Emanuele Vulcano.