Documents 2 App Review: iPhone Apps Review
What Are the Features of Documents 2?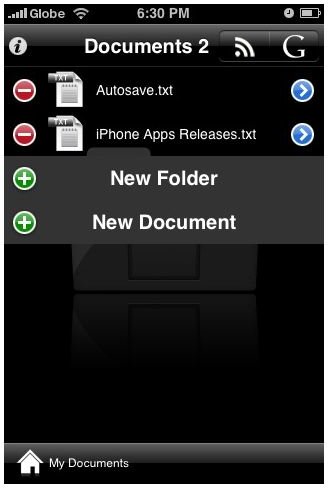 Documents 2 is a feature-rich iPhone application offering 9 Mobile Office applications into one convenient and easy to use app. It's a mobile spreadsheet, a mobile hard drive, an easy to use text editor, a photo manager, email app, a high-quality sound recorder, a Google Sync app and a document viewer. Here's what each of these features allow you to do.
WiFi HD - Documents 2 lets you transfer files between your iPhone, Mac, PC and any network device using the Safari Browser. Using the Wi-Fi HD feature, you can practically turn your iPhone into a virtual server for storing various types of files.
Google Docs Connector - Allows you to download a Google Doc file, edit it on your iPhone and then upload the file again to your Google Docs.
Direct Email Feature - The app lets you send files as an attachment on an email to anyone. It also lets you select an email address from your iPhone contacts.
iSpreadsheet - This app integrates iSpreadsheet app into Documents 2. As such, it fully supports CSV files as well as formatting and using formulas on a spreadsheet. It also has selection assist and multitouch features.
File Preview - Documents 2 lets you browse Word Doc, Excel, and Powerpoint files; various image files; iWork files; PDF; HTML files;.mht files and of course, audio files.
Pixi Sound Record****er - Record any sound at 44.1khz frequency recording. The app also features scrolling and playback functions.
Text Editor - Lets you edit text in wide screen or normal view.
Photo Album - Allows you to take photos using your iPhone camera, resize and zoom these photos and preview them in a slide show.
Direct Emai****l - This feature lets you email documents and access your iPhone's address book quickly.
How Does it Work? (4 out of 5)
As soon as you fire up Documents 2 after installing, you will be given two options - to create a new folder or new document. Under the New Document Menu, you can create a text document, spreadsheet, photo or sound. Selecting a text document will open the apps text editor, spreadsheet will open the spreadsheet creation tool, photo will open your iPhone's camera, and sound will open the voice recorder interface.
When getting files from your Google Docs account simply tap on the G icon located at the top bar. The app will ask you to login to your Gmail account before it list down your Google Docs file. Selecting a file gives you the option to download it to your iPhone. After editing a document file, you can upload it back to your Google Docs account following the same procedure when downloading files.
Beside the G icon on the top bar is another icon which if you tap will display an IP address of your Documents 2 installation. This is supposed to be used for transferring files from your PC to your iPhone. However, when I tried to upload a file from my PC, the app closed and brought me to my main iPhone Apps Screen. I've tried this several times, but it wouldn't just work.
Our Verdict (4 out of 5)
For a free Mobile Office Suite, Documents 2 is certainly well worth the space it would occupy on your iPhone. If you're always on the move and would like to have access to your Google Docs files, or create Word Doc, spreadsheet and other files on the fly, this app is a must have for your iPhone. The overall feature of the app works pretty well. If Savvy Soda, the app developer, could make the file sharing feature work, Documents 2 could give Quick Office Mobile Suite, an expensive iPhone app a run for its money.
Image Credit:
Screenshot of Documents 2 by Savvy Soda.