iPhone Apps Reviews: The Wall Street Journal App Review
Wall Street Journal iPhone App Features (3 out of 5)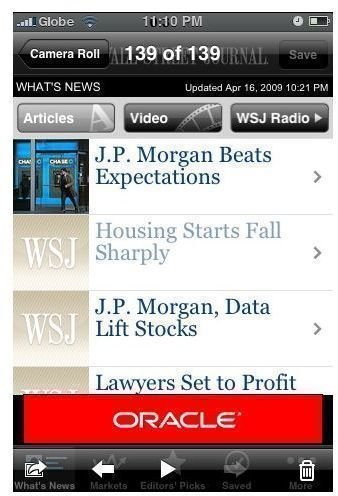 The Wall Street Journal iPhone app features the latest global news, financial events, technology updates and practically all the essential content that you can get from both its online and printed version. All of this comes with one big difference: you get to read all of this content free. And that's an interesting point to note, but we will get into that later on.
When you launch the WSJ application, you will immediately see the five available options located at the lower portion of your screen. These are What's New, Markets, Editor's Pick, Saved and More. What's New provides the latest WSJ headlines; Markets contain finance-related news and data; Editor's pick are standard WSJ feature items; Saved contains WSJ news you have saved and can share via email through your iPhone; and More practically gives you all the other WSJ news content including real estate, technology and more. The What's New page also gives you the video content and podcasts featured on WSJ.
Our Verdict (3 out of 5)
The Wall Street Journal iPhone app is a pretty robust app that is ready to compete with the likes of the NYTimes, CNN and Bloomberg iPhone apps. Being a late entrant into iPhone news app market, the WSJ certainly faces stiff competition from these iPhone apps. Fortunately, the WJS iPhone app has an ace up its sleeve. That is the fact that its online version is on a paid subscript while its printed version is also fee-based. Now, how could this work to WSJ's iPhone app? Well, those who have been relying on news quote from sites who can access the fee-based WSJ will now be to read WSJ free from their iPhone.
The big question is, why is WSJ offering its premium content free on the iPhone? Is it trying to kill both its online and printed publication? The answer is of course a resounding no. On the contrary, this app would boost the WSJ readership. How WSJ gains from offering their iPhone app free is through paid advertisements. But don't worry, because those ads should not annoy you while reading the WSJ on your iPhone.
For our verdict, it used to frustrate me when they featured a tech news item I wanted to cover but could not because the complete details of the news item was available only for paid subscribers. This app remedies that frustrating experience by providing free WSJ content.
You don't have to ask us if you should install this app on your iPhone. It's the Wall Street Journal and that's enough reason why this is a must have iPhone app.
Image credit
Screenshot of WSJ-Wall Street Journal by Dow Jones, Inc.