iPhone Apps Review: Birdhouse App Review
Birdhouse iPhone App Features (3 out of 5)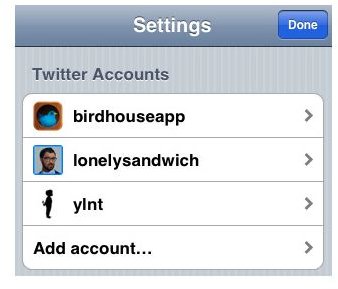 Birdhouse is a pretty simple Twitter-related iPhone app. It's an add-on tool that you can use for whatever Twitter app you have on your iPhone. As an add-on tool it serves as your Twitter client's notepad that allows you to create draft post, save these posts and publish it as your regular tweet once you've edited it well enough. In essence, Birdhouse allows you to create Twitter posts that you don't want to publish immediately.
Birdhouse will be most particularly useful to writers who always want to make sure that whatever they post online are well-written statements. What makes Birdhouse different from the default iPhone Notepad app is the fact that it sits inside a Twitter app. So, you can post your tweet anytime you feel that it is ready for posting.
Birdhouse also gives you a countdown of the number of words left before your tweet reaches the Twitter 140 character limit. You can save drafts as many times as you want and even publish your posts to multiple Twitter accounts. Birdhouse also allows you to rate the drafts using stars and sort them by functionality. It also allows you to backup your post through email.
Our Verdict (3 out of 5)
As an iPhone application, Birdhouse is a pretty robust tool just like most productivity app for your iPhone. It fulfills the very reason why it was created as an iPhone app. But, this is also the problem with this app. It has limited use considering the fact that Twitter is not only about posting tweets but also for connecting with your Twitter contacts. Unfortunately, this app did not take this into consideration. It would have been a better app if it was released as a full Twitter app with the built-in Notepad tool.
If you're not meticulous with what you post on Twitter, or if you're not building yourself as a respectable writer to your Twitter contacts, you wouldn't have a need for this app. On the other hand, if you do mind what you post on Twitter, the question to ask is if you would be willing to purchase Birdhouse, which has a price tag of $3.99, to use such a limited functionality.
The app developer must have been thinking of coming up with something different related to Twitter when this app was being developed. But, since there were already many Twitter iPhone app, the developer thought of doing something different. And this was the best he could think of.
The bottom line is still the application's price tag. If you don't mind spending that much for a robust iPhone app such as Birdhouse, then by all means purchase this app. But, if you do mind the price tag, you wouldn't really be missing a lot if you pass on this iPhone app.
Image credit:
Screenshot of Birdhouse by Sandwich Dynamics.