iPhone Apps Review: Dictionary.com App Review
What Makes Dictionary.com iPhone App Special? (5 out of 5)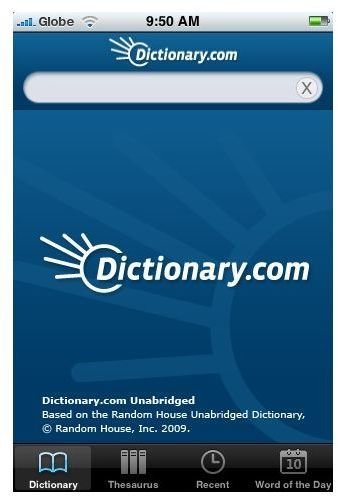 There are many reasons why you should install this app on your iPhone. Feature-wise we couldn't ask for more. The app brings all the great features of the Dictionary.com website to your iPhone. When you launch it, you can immediately see the four essential features of the app - the unabridged dictionary, thesaurus, recent and word of the day. At the top of the screen is the familiar search box where you type the words that you are looking for. The search box is auto-complete enabled, allowing you to search for terms faster. This auto-complete feature works for both the dictionary and thesaurus sections.
Things get more fun when you check out the definition of the word that you're looking for. Aside from giving you the definition, you'll notice a speaker icon right after the word. Clicking on that icon will play the correct pronunciation of the word. Isn't that nice? The app features both male and female voices, and both of these voices sound good. At first, I thought this was a unique feature but my wife just told me that the Dictionary.com website has the same feature. Still, it is nice and useful to have this feature on the iPhone app.
The Recent tab is equally nice as well. It doesn't just list your most recent searches, but also gives you a choice whether to view the Thesaurus.com or Dictionary.com entry. You can also view this word's entry in the Word of the Day view if it was featured there before.
Speaking of Word of the Day, this feature is equally useful, especially if you have the habit of enriching your vocabulary daily. If you check out the Word of the Day, it gets into your Recent Word list, enabling you to review it later on.
The best part is that the app lets you use the dictionary and thesaurus section even if your iPhone is offline. It would only eat up around 36MB of your iPhone's storage space. For the other features of the app, internet connection through WiFi or 3G is required.
Our Verdict (5 out of 5)
Given all those features we've mentioned, plus the fact that Dictionary.com is a free iPhone app, we really can't see any other reason why you shouldn't install the app on your iPhone. Every one of us needs a dictionary at some point in our daily lives. Why bother searching for a pocket dictionary when you need it most when you can have it quickly using your iPhone?
Two thumbs up for the Dictionary.com iPhone app.
Image credit:
Screenshot of Dictionary.com by Dictionary.com