Gratitude Journal for iPhone Review: How an App from Happier.com Can Help Your Life
It's a wonder the sun ever comes out with all the bad news we hear on a daily basis. Thank goodness, the sun keeps shining bright no matter the mood we're in these days. I remember reading about this study that divided people into three groups.
The first group had to write five things they were grateful for that happened recently. The second group did the opposite and wrote five recent hassles. The third group listed five things that happened with no regard to good or bad. The result? The first group experienced 25 percent increase in happiness.
happier.com aims to help everyone boost their happiness levels with research-proven tips and tools. The web site lists exercises you can do. You can also stay on top of happy on your iPhone or iPod Touch when you're away from your computer with the Happier.com Gratitude Journal app.
Research says that approximately 70 percent of people want to be happier. By all scientific counts, be aware of your happiness and gratitude can make you happier.
About Gratitude Journal
Start with the introduction video starring happiness expert and University of Pennsylvania professor, Dr. Martin Seligman, if you'd like. You can see it online at happier.com. Unfortunately, this neglects those who need closed-captions and subtitles. Even most of the Three Good Things content on the web site (requires free registration to access) contains mostly video.
You can join the first group with the gratitude journal. The iPhone / iPod Touch applicationn gives you the opportunity to record three things that you're grateful for on a daily basis. First answer "What happened?" and then "Why did it happen?" The purpose of the tool is to see the good things that happen in life and why they happen. It would be helpful to see more examples of writing good things and why it happened on both the website and in the application.
After recording three good things, move on to the "measure your happiness" to answer 24 multiple choice questions (five choices per question) about how you're feeling for the day. Do it on a regular basis and you'll see a chart of your overall happiness. The app allows you to review your past entries. The following three images take you through the application beginning with recording three good things, taking the quiz and viewing the results.
Gratitude Journal Screen Shots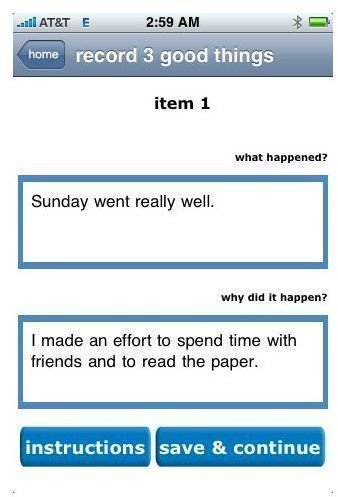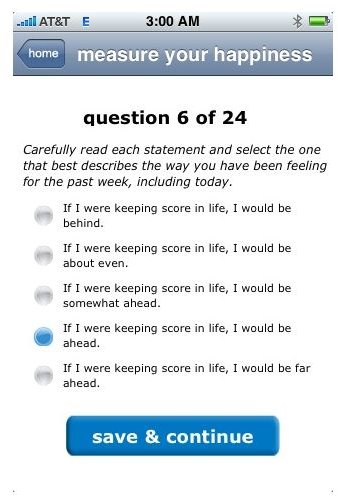 The Verdict
Does the app work? Well, it would take time to answer that. But how do you know it works? Dr. Martin Seligman, consultant to happier.com, says, "When you start to do the 'three good things' exercise, you've two things to watch for. First, do you sleep better that night? The second thing to notice is the next day, do you start looking around the world, as you go through the world, for the things that are going well? If you do that, then the exercise is working for you."
I already sleep well at night (always have) and I love what I do, but my happiness can stand to go up a bit.
Because of its ease of use and ability to figure out how to use it with little effort, people will more likely use it on a daily basis. Make it a habit to do the exercises before going to bed or first thing in the morning as you reflect on the previous day's activities. If science supports the keeping a gratitude journal makes you happier theory, your outlook will change from "Life sucks" to "Life's good" in good time. Recognizing what makes you happy for the price of a song at $0.99 should be worth it.
Images credit: All images are screenshots of happier.com Gratitude Journal by Reflexive Learning, LLC.