iPhone Apps Review: GottaGet
What GottaGet Does (3 out of 5)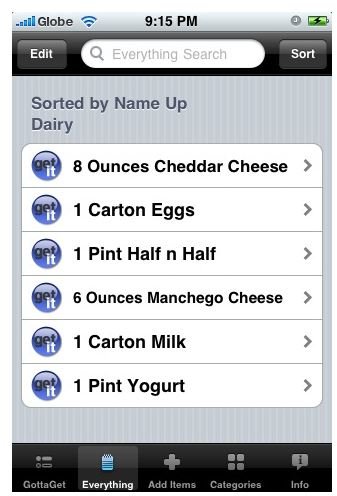 GottaGet is a shopping list application for your iPhone. It helps you remember product items that you need to buy;something that is most useful when you are too busy and pressured to finish your grocery task in as little time as possible. What is so unique about this _GottaGe_t is the fact that instead of writing down the things that you need to buy, the application gives you a comprehensive lists of the usual grocery items. All you need to do is to select the items and they will be added to your own GottaGet list. Then after buying the items you can quickly return it to the "Everything" list.
What are the Features of GottaGet (3 out of 5)
GottaGet lets you compile a list of things you need to buy and classify them into various categories. These categories are not fixed and can be personalized to suit your preferences. The application gives you eight default categories that you commonly find in a grocery list. You can also add new items to the Everything List, hence the said list is continuously growing.
By default, _GottaGe_t sorts the Everything List and your own list of things to get/buy alphabetically. But, you can rearrange the order of this list anytime either by quantity or by unit type.
One added feature of the GottaGet iPhone app is the HoneyGet email. This feature lets you send your grocery list to your phone via email. You can do this by tapping on the "Create HoneyGet Email" icon located at the bottom of your list. After tapping on this option, the application will then create an email with your shopping list as the body of the email.
Our Verdict (3 out of 5)
Aside from being a simple shopping list application, I really like GottaGet's approach to the shopping list application niche. Having the items pre-listed so you may simply select them from the list is very nifty indeed. GottaGet is a pretty useful iPhone application that saves you time and ensures that you get everything that you need when doing your shopping. Needless to say, we recommend installing this application. It won't cost you a dime, and could save you extra visit to the nearest convenience store just to buy something which you forget to get from the supermarket.
Image credit
Screenshot of Gottaget by Raddonline.