Classics - The Best Reading experience on the Iphone/ Ipod Touch
The Ebook Reader
"There are two motives for reading a book: one, that you enjoy it; the other, that you can boast about it." - Bertrand Russell
I might add in a third reason to the above quotation, you'll know all about it after you finish reading through this review. Reading has always been one mankind's greatest hobbies. As technology grew, so have our ways of enjoying our hobbies. Ebooks however have not been very popular since they first came out. People still seem to love paper, or have not yet been exposed to a reading experience that would make them enjoy the act of reading an electronic version of a book. Enter Classics, an iPhone/iPod Touch app that allows you to catch up on several English literature classics exclusively.
Interface (5 out of 5)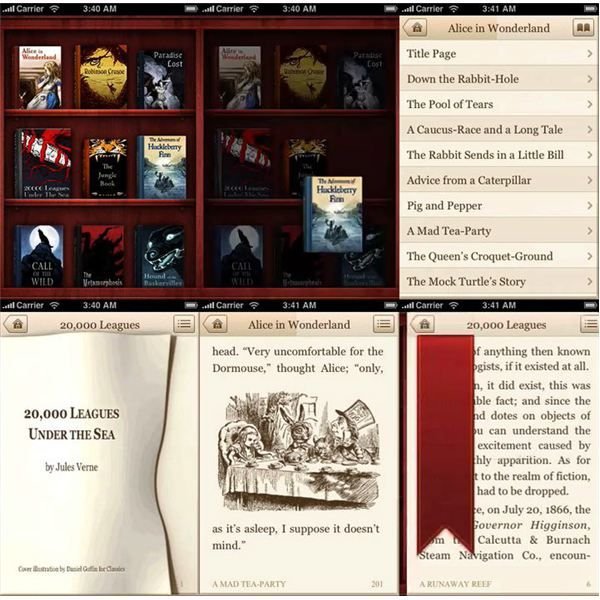 Classics comes with one of the most well designed interface ever. The whole app is an exercise is aesthetics. The books are arranged on a wooden bookshelf. I might not be able to do justice by describing how great this setup looks (please have look at the images). All books can be dragged and rearranged on the shelf as you see fit. The covers for the books are exclusively designed for this app and are wonderful to look at. Tapping on a book opens it up and brings your to the book's cover page. There is a brief load time involved here, since the books have been designed for maximum reading pleasure on the iPhone/iPod screen. Pages can be flipped literally as with real paper by tapping or flicking your finger in the appropriate direction. There is a Contents page for every book that allows you to jump to specific chapters. There is also a beautifully designed bookmark that can be left on the page you are reading to come back to it easily. Attention to detail in this app is amazing, the page flicks create a very natural bend in the pages and included is a sound for the same. Of course, these settings can be switched off if they get too annoying.
Image Courtesy: https://creativebits.org/
Reading experience (5 out of 5)
Classics contains books that were visually redesigned for this specific app and therefore are a pleasure to read. I personally am not a fan of most electronic reading interfaces as they're not so gentle on the eyes. The case with Classics is different though. Care has been taken to design the background, that's the paper texture in such way that the gorgeous screen doesn't get in your way while reading. The choice of a very mild background and a very well designed type makes the letters very easy to read even while on the move. I've used other ebook reader apps on the iPhone/iPod like Stanza, which are well designed for long reading sessions. Of course that is not say that Classics is perfect. It does lack some handy features that are available in Stanza, like searching for a particular passage in the book or starting the app directly with the last book and page that the reader was on. But again the app avoids distracting pop-up controls or toolbars that might get in the way of the reading experience. If you're looking for the future of how ebooks might evolve their reading style to get close to their real life counterparts, then try Classics.
Classics app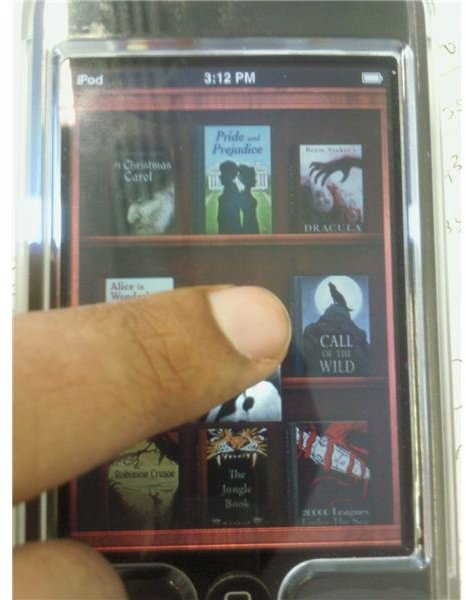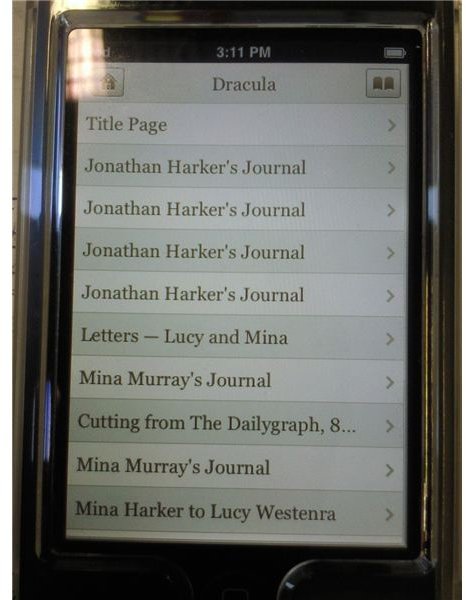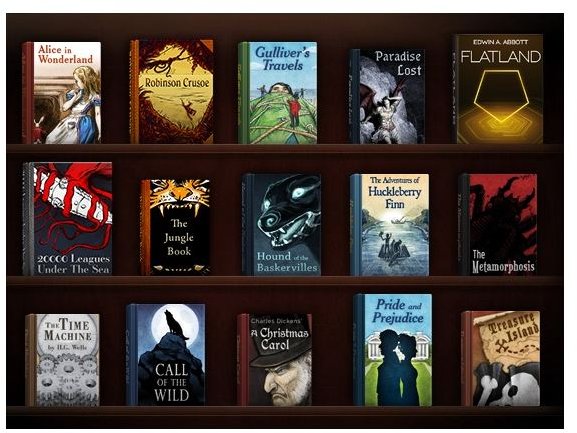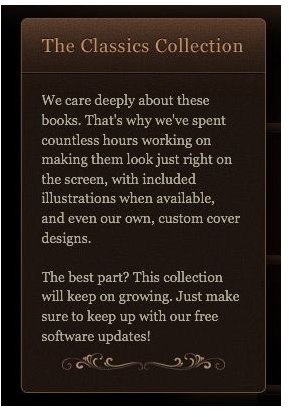 Bookshelf & Other Features (3 out of 5)
Even though the site mentions that Classics is still under active development, I do wish to point out some of the not so interesting facts. To start with, the library of the bookshelf available for Classics is severely limited! Those guys need to get some more stuff in there, cause I've already finished several of the books in the library. I should also state that I've even read through titles like "Twenty Thousand Leagues Under the Sea", "Treasure island" and " The Adventures of Huckleberry Finn" for a fourth time in my life! Books like "Paradise Lost" and "Pride and Prejudice" are going to take some time for a re-read so I guess I will be eagerly awaiting their next update. Some capability to search would be greatly appreciated. And how about bringing some more not so "classic" titles in there - maybe there are other people out there like me who would pay for a premium reading experience.
Book Lovers Should Run and Get Classics
It wouldn't be a stretch to say that Classics is the most "macish" ebook app out there. Designed with great attention to details and a wonderful interface, Classics should be in every avid reader's iPhone or iPod Touch. And besides, I've not read those classic books in quite a long time, but Classics has changed that. The wonderfully designed interface and pleasurable reading experience has brought me back to virtually touching these timeless books. Bestsellers, and any current releases cannot be expected on Classics anytime soon, but you can always try those on other similar apps like eReader. Apps like eReader and Stanza are capable of delivering the latest books and bringing in a huge catalog, but they are no where near the user experience of the Classics app. It would be great if the other ebook reader apps could take something out of Classic's pages and enhance our reading experience on the mobile platform.