iPhone Apps Reviews: Files Lite Review
Introduction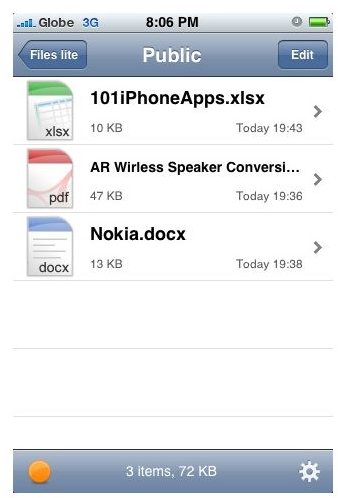 One thing that I've been looking forward to the iPhone's capability when I first got it was the facility for letting me read documents of various formats. Sadly, the best it could offer before was a synchronization with Google Docs. While Google Docs Lite or even Soonr may be effective in letting you access your files stored in their respective server, the problem is you have to stay connected to the Internet to do so. Thankfully, Files Lite emerged from the Apps Store has just emerged from the iTunes Apps Store.
Features of Files Lite (4 out of 5)
Files Lite is a free application the lets you transfer documents from your PC through Wi-Fi network, and then read them even if your iPhone is not connected to the Internet. As a free iPhone app, Files Lite limits the files you can store to 200MB only. If you want more storage capacity, you can always upgrade to the paid version. On the other hand, if you don't want to pay for the paid version, make sure that you delete files that you no longer need to give way for more new files to be stored.
Files Lite support various document formats including Word Doc, Excel, and PowerPoint, html, movie files, audio files, images, and PDF documents. You can view your files either in portrait and landscape mode, and you can also use the usual zooming and panning of files by pinching and swiping on the iPhone screen.
How to Transfer Files
I must admit that it took me a while to transfer files from my PC to my iPhone successfully using this app. The application's built-in Help file can be confusing. The application works with various OS including Windows XP, Mac, Windows Vista, and other OS.
Connecting your iPhone to your PC through Files Lite depends on the OS you are using. For Vista, you can either do so by mapping a network drive or create a new network drive. The idea is here is to assign a network drive for the Files Lite app. Once you've set your network drive, all you need to do to transfer files is to drag and drop them onto that drive. After you've successfully transferred a file, it will appear immediately on your iPhone's Files Lite directory.
Our Verdict (5 out of 5)
Files Lite is a pretty simple application that does what we have all been waiting for the iPhone to perform, the ability to transfer files sans the iTunes interface and the ability to read these files on your iPhone even if you are connected online. Those two features alone make this free app a worthy download.
Photo credit:
Screenshot of Files Lite by John Buckley.