QuickVoice Recorder for iPhone Review: Replaces Your Old Voice Recorder
Introduction
If you are a journalist, chances are you've got a full bag of gadgets and paraphernalia that you use when you go on a field work. One of them might be a tape recorder or any voice recording device which you use for interviews. But what if you can use another gadget to do the voice recording instead of the traditional voice recorders that journalists do? Believe it or not there is another gadget who can do the same tasks and you guess is right - it's our iPhone. All you need is a nice little application called QuickVoice Recorder. Here's a non-journalist's take on this journalist-friendly iPhone application.
Features of QuickVoice Recorder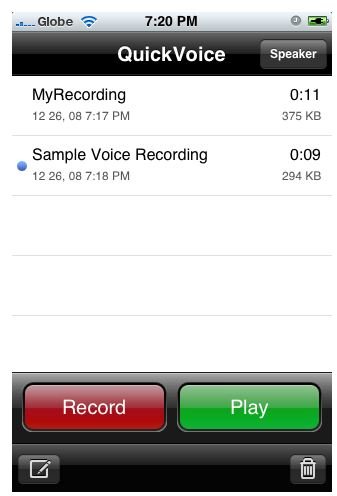 Basically, this iPhone app lets you record ideas, voice memos, dictation, to do lists, classes, meetings, lectures and anything that you can possible utter and saved as a voice recording on your iPhone. It is capable of producing high-quality recordings at par with your traditional voice recorders utilizing tapes, mini-discs, digital memory, etc.
As a full-featured voice recorder application, QuickVoice lets you adjust recording qualities, pause recording sessions, flip mode for "mic on top" recording, Vu meter, fast forward, speaker/earpiece toggle, and vibration option when clicking on the record button.
The best thing about QuickVoice Recorder aside from it being a free app is the fact that you can record as much the storage capacity of your iPhone's memory can hold. It doesn't limit the length of your voice recording until you fill up the iPhone's memory. You could record a whole seminar session if you want to (provided you had the memory).
Final Verdict
What I really liked about QuickVoice Recorder is its straight forward approach into what it wants to provide to iPhone users. Those are to enable us to record voice, save it on our iPhone, transcribe the voice recording and then delete it once so as not to clog our iPhone's storage. It's as simple as that really.
It's a pretty simple and basic voice recording application for the iPhone that delivers the punch right when you need it. And considering that it is a free application that requires only 0.2MB of your iPhone's storage, we really don't any reason why you should not install it on your iPhone. If you don't have a need for a voice recorder, you can always use it as a To-Do Reminder application.