Paid iPhone App Review: Night Camera
Introduction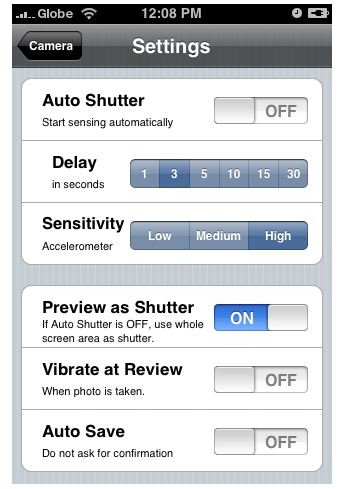 We all have to admit that the iPhone's camera is not the best camera you could possibly find in a camera phone. With just 2.0 megapixels and no auto-focus, it would be hard to minimize blurred photos when you use it especially at night. But wait, Night Camera iPhone app has a solution to that. This new iPhone app which just launched before Christmas makes taking photos at night or in a low-light environment easier and better. Not really the best looking photo image output but certainly better than the output of the iPhone's default camera settings.
Does Night Camera App Really Makes the iPhone's Camera Better?
The Night Camera app provides some modification settings which you can use to improve your iPhone camera's output. What it really does is to use the iPhone's accelerometer to detect when you are already holding the iPhone with steady hands before triggering the camera shutter mechanism. The result is a sharper photo than what the default iPhone camera can produce.
Of course you can always use some photo editing tools to enhance the photos you've taken using your iPhone. But those can only improve some quality of the photos but not the blurry ones. In fact, not even the blurred photos taken by professional cameras can be improved by any photo editing tools. So the best thing to do is to make sure that the shutter button is pressed only when your hands are already stable.
While testing out the Night Camera on my iPhone, I noticed a slight difference in the ouput when I took a shot using both the Nightcamera app and the default iPhone camera app. The Night Camera app works like a flash, giving you extra lighting in a low-lit environment.
The key when using the Nightcamera app is to ensure that you're hands are steady once you've tapped on the camera button. If you think it would take some time for you to achieve this, you can reset the auto shutter delay to as long as 10 seconds. You can also adjust the accelerometer's sensitivity from low to high, auto save your photo once taken, use the whole screen as shutter button, and vibrate when a photo is taken.
Our Verdict
Night Camera is a fairly new app that tries to improve on one of the iPhone's weaknesses. And it was able to achieve this successfully. It may not be the best solution but still is a solution nonetheless. Hopefully, the developer would introduce more enhancements to this application in its next versions. It's your best solution into making your iPhone come up with good photos.
Night Camera is available at the Apps Store for an introductory price of $.99. Grab it now as we expect the price to go up.
Images