Review of the To Do's App: Increase Your Productivity with Simple but Effective Task Management on Your iPhone
Introduction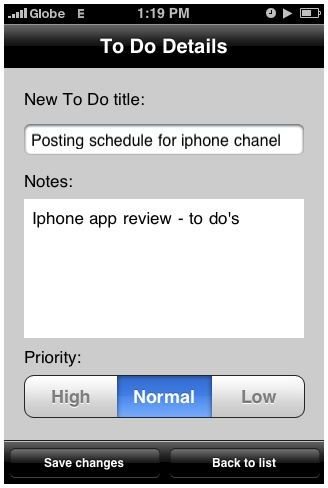 To Do's is your plain old task management/reminder tool which fulfills one basic function – helping you remember things that you need to do. Nothing fancy here. No synchronization option, no elaborate design. Just your plain, task list organizer/reminder. And most of that time, it's more than enough than what we need. This iPhone app can best be described by enumerating its features which are basically composed of three things.
Three Features of To Do's
The To Do's iPhone app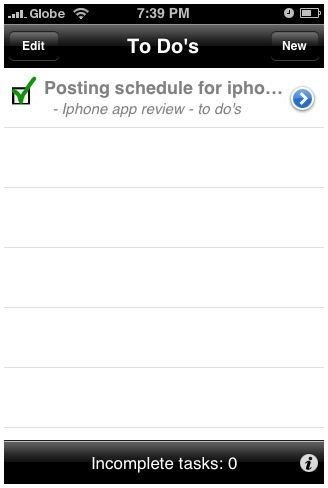 has three basic features which are more than enough to make it a fully-functioning productivity app for managing tasks you need to complete.
First, when you install the To Do's app on your iPhone, you are given three priority settings for the tasks that you need to do - high, normal, and low. We don't have to tell you anymore what the difference among these priority settings is. But to separate each from one another, high priorities are coded Read, normal priority in orange and low priority in black.
Second, the To Do's work screen is composed of three elements. On the left side is a checkbox which simply indicates whether you have completed a task or not yet. The main part of the work area is the heading for the task you need to do which also includes a short description of the task. And the last part is the blue arrow link that will bring you to the Details screen of a specific To Do item, where you can edit its title and description.
Third, the application also lets you display the number of unfinished tasks on the application's icon badge which is displayed on your iPhone's homescreen. So, you will immediately see how many pending items are left for you to do.
Our Verdict
We really like this iPhone productivity app for the simplicity of its approach to a task manager/GTD application. Sometimes, we don't need an elaborate and complicated application to remind us of things we need to do. Just a simple task list manager with a few options for tweaking is more than what we need to get things done. Do we need to say that this iPhone productivity app answers that need? Oh well, yes it does. And it does so effectively.