Weatherbug iPhone Review: A Weather App to Find Out About Today's Weather Conditions
The Good Features of the Weatherbug App
Weatherbug gives you 3 ways to find out about the local weather conditions in your specific areas. There are conditions, radar and cameras. Conditions gives you various weather information such as current temperature, rainfall measurement, wind speed, high and low temperature, humidity, dew point, heat index, wind speed, and weather alerts. In addition, the app also gives you a quick three-day forecast, with brief weather information for the day.
Radar provides you with radar images of weather conditions in your localities. It even allows you to save up to three cities and their radar images to enable you to browse their radar maps.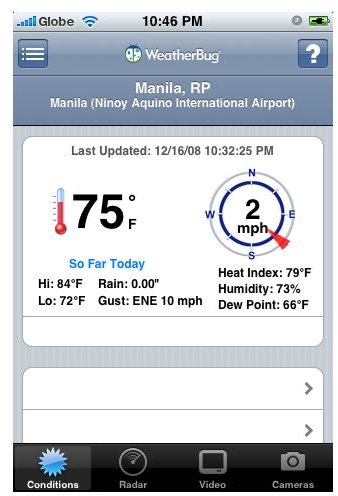 Cameras is perhaps the most exciting feature of Weatherbug. It gives you still pictures taken by webcams on various location within your locality. Camera view is most useful when you want to find out how the weather looks like but you can't go out or at least take peek at the weather conditions via your window. Weatherbug lets you save up to three camera locations which you can quickly access to view the weather conditions outside.
The Not So Nice Features of Weatherbug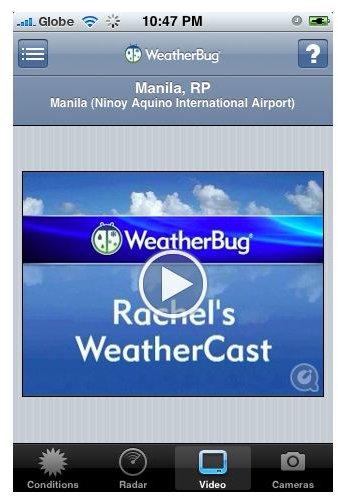 We really think that Weatherbug is a pretty useful, robust and fluid application for the iPhone. However, there are some minor kinks which the application developer must try to resolve in the future releases of this application. We could only name two, although we're pretty sure there are other kinks still. Anyway, one not-so-nice feature of Weatherbug is the fact that it only gives temperature gauges in Fahrenheit which is no longer used in most countries.
The second not-so-nice feature of Weatherbug is the fact that it has not included weather conditions in other countries yet. So, don't expect to get weather information of other countries other than your own, if you country was lucky enough to be covered by Weatherbug.
Our Final Verdict
Weatherbug is definitely a better weather application than the iPhone's default weather app. It's got more information content and offers variety of ways by which you can find out about the weather conditions. And Weatherbug is a free application. If this doesn't suit your needs, you can check out the competing Weather Channel app.