Vlingo App for Phone Review: Put Voice Commands on Your iPhone
What Does Vlingo Offer?
At first look and upon reading Vlingo's description of its free iPhone application you would definitely think that it is a cool application and that finally voice-enabled commands have finally arrived on the iPhone. According to Vlingo, their free iPhone app lets you
initiate calls to anyone in your address book
search for anything through Yahoo or Google
look up and map local listings
update your Facebook and Twitter status updates without typing
How Does Vlingo Work on your iPhone?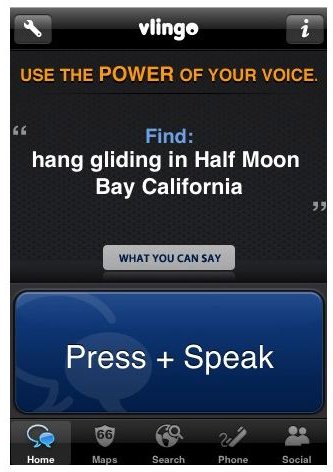 To do your mobile web search, you need to set up first which search engine you want to use, and that is either Google or Yahoo. Then to get started searching, you need to press a tab on your iPhone screen to start uttering your voice commands. Then, the application will open your iPhone's Safari browser to display the actual Google or Yahoo search results page.
The same is true if you update your status on Twitter or Facebook. You need to setup first these two web services in order to have them on the Vlingo commands and menu. In setting up your Twitter or Facebook account to enable voice commands you would need to authorize Vlingo to access your Facebook and Twitter accounts. From then on, you can start updating your status on those sites without touching your keyboard. Now that's what I call ultra-neat.
What Could Possibly Go Wrong with Vlingo?
For awhile I thought it was pretty cool to do your keyboard-based operation into voice-enabled commands. A few hours after installing the application, I tried doing voice search on Google and found some pretty interesting stuff. Now here's the lowdown, loading settings as well as authorizing Vlingo to access your account with your username and password maybe a bit tricky to some although some might not mind it at all. If you're one of those who will not mind letting third party accounts access through your Facebook and Twitter accounts, then you might actually like this iPhone app.
Now, although Vlingo is a pretty cool iPhone application, it is not without some minor flaws and inconsistencies. For one, it relies on voice recognition technology, so to successfully carry out a task you must speak as loud and as clear as possible or you'll end up with the wrong search keywords, or wrong person to call.
As for the "voice dialing" features of the Vlingo iPhone app, it would have been more useful if it directly dials the phone number and makes the call. Unfortunately once you speak out the name of your contacts and the app successfully finds it from your iPhone contacts directory, you will still have to tap on the Call button to make the calls. Somehow this defeats the purpose of having a voice-dial feature. I wonder what's taking Apple so long to include the voice detail feature since other mobile phones have included the  feature for years.
And lastly, another flaw that I find with the Vlingo app for the iPhone has something to do with its being an initial version. Hence, don't be frustrated if your screen hangs up once-in-awhile. Although in my case, it happened several succeeding times. This might have something to do that in order to maximize the use of this app, your iPhone must be running on a fast wireless or 3G connection to connect to the internet. This is particularly true when you are doing web search.
Final Vlingo Review
Overall, the Vlingo free iPhone app has the potential to become a successful iPhone application if it will be able to iron out some kinks in the way it does what it promises to do. Since it is a free app, and if you've got some free space on your iPhone, there's no harm in trying it since you can always remove it from your iPhone's application inventory if you don't like its features.