Google Earth for iPhone Review: Exploring Features and Usefulness of the Google Earth App
How Useful is the Google Earth App? (3 out of 5)
Google just released its popular Google Earth geographical software for the iPhone on Sunday, October 26, 2008. Google has jumped head-in to the world of iPhone apps with this very responsive, easy to use, and intelligent map app.
Google Earth is a free download, which is not surprising, as the PC and Mac versions are free as well. The iPhone version, unlike the full-fledged computer versions, do not have any advertisements built in (yet).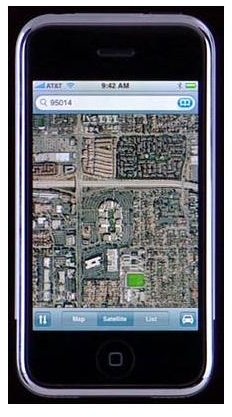 You may ask yourself, "What is the actual purpose of this application?" Well, I can't exactly answer that - it's mostly for exploring. It is helpful when wandering around a big city. It can also be useful in finding nearby places to eat, as Google Earth will put red pushpins on the map after you do a search. Although there are other apps like Urban Spoon that do a better job of this.
The auto locate feature was fairly accurate when I used it with my old generation iPhone. It was a few streets off, but pretty close. It would be more of a problem if I was lost and trying to find my way back. This feature should, however, work better with the newer iPhone 3G or 3GS.
Responsiveness (5 out of 5)
I was impressed by how responsive the app was to one and two finger touches. Google definitely spent their time making this app very user friendly. I love the rotation ability by using two fingers in a circular motion to rotate the map. It also makes use of the iPhone's accelerometer to change the view up and down. The responsiveness of the app even on the sluggish Edge network is extremely impressive. I expected the app to take a long time to load the maps and zoom in, but it all happened very quickly.
It really is a beautiful application in the sense that it is extremely polished and free of the errors and crashes that plague other iPhone apps.
Google Earth, although lacking in the area of pragmatics, is a fun, free app that is worth downloading. At the very least, it is a great tool to show off to your friends how versatile and powerful the iPhone actually is. This app runs well on the original iPhone, but really shines on the iPhone 3Gs and iPhone 4.
Final Take
If you really need to examine the area where you are or where you're going, I recommend using Google Earth on your computer. But if you only have your iPhone handy, the mobile version of Google's application isn't a bad option. If you do decide to install it, don't plan on using it all the time to find directions since there are better apps available for that. If you're one of those people that love satellite views of the Earth's terrain and simply love Google Earth on your computer, then I highly recommend the app. Just don't use it to find your way back from a trip to the North Pole or even your grandmother's house - use something like the MapQuest app or even Google Maps for the iPhone to find the way back home.