iOS 5 Review -- What's New, What's Good, What's Annoying?
Time for Change
So along with thousands (millions?) of iLovers I waited patiently until 10am Pacific time to get me a slice of the iOS5 action. Naturally, being of such great number the download took an incredibly long time, but I'm not going to hold this against Apple in my review because I think that was to be expected. I didn't find it completely straightforward to install once the download was complete – for some reason it forced a backup, restored factory settings, and then installed and updated all my apps etc. It seemed a longwinded process, but perhaps I'm an isolated case.
Was the process worth it? I'm going to take a look at the big stuff in this review (the stuff you are really interested in) and see if Apple delivers on the promise to be years ahead of any other OS. Let's take a look at the Good, the Mediocre, the Bad, and the Ugly.
The Good
Let's start with the good stuff. To begin with I think it's highly commendable that this is being rolled out to all iDevices and that downloading was a free experience. The same can't be said of other operating systems where you are left waiting for months on end for the manufacturer or carrier to get their act together and pass along the latest release, which is a definite feather in the Apple cap.
Everything is definitely a little more streamlined in iOS 5, although frankly the competition demands that it needs to be, so this shouldn't come as any great surprise. The overall look is pretty much the same, although there are subtle improvements to the look of some shortcuts like music which makes it a little more eye-catching but nothing noteworthy. Apart from the additional icons of messages, reminders and newsstand there's nothing new to see here.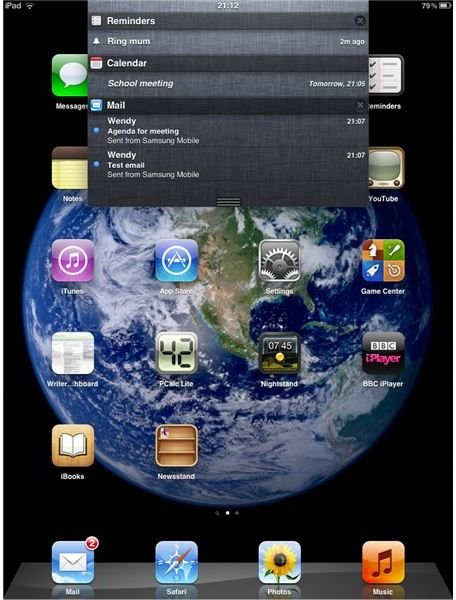 The integration between so many separate functions is a really welcome addition. My favorite function so far is the Notifications Center – just pull down from the top of the screen to get updated on pretty much anything you wish. Certain areas are included in these notifications already, and others you have to add – I thought it was a bit strange that 'mail' wasn't one that was already included though. Then there were odd choices that had been included, but it's all easy to sort out in the notifications area of your settings menu.
There are some subtleties that will make your life that tiny bit easier too, such as when tapping on a photo you have many more options such as 'Tweet' and 'Message' so the integration here is useful.
iMessage has been dubbed as the app to win over BlackBerry users owing to its similarity to BB Messenger. You can bypass the need for SMS and chat for free with anyone else who has iMessage whether it be on iPhone, iPod Touch or iPad. You get features such as notification when a message has been read, and see when the other person is typing too. Much more of a conversation than with a standard text – this realtime chat capability is going to be huge.
Not everyone is going to appreciate Reminders as it's a pretty simple little addition, but for someone who needs lists for everything I already love it. Write your list and tick each item off as it's accomplished. Did I also mention you can add alarms and get reminded about stuff you need to do all integrated into the Notifications Center too?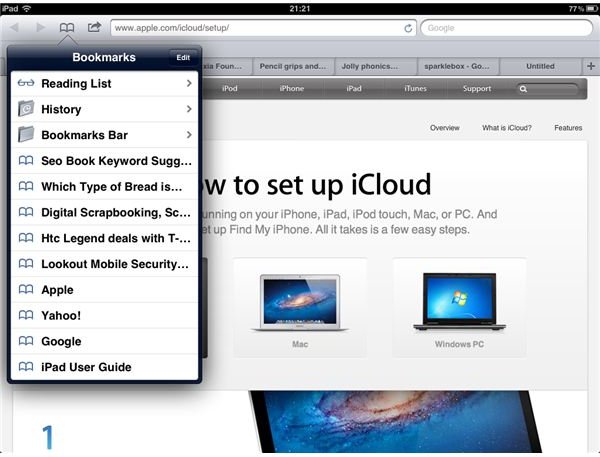 iCloud is amazing and could take up a whole review on its own most likely. It's simply fantastic that this has been included and that you get 5 GB of storage for free…free! You're onto a winner here too as things likes your iTunes music aren't included in your allocation. You can buy more storage if you need it though. If you have more than one iDevice you will find it especially useful to make sure that what you do on one will automatically get updated to the other, but the rest of us can still make use of the storage and backup advantages that iCloud brings. Super easy to set up too, it just used my AppleID, a few taps and it was done.
The Mediocre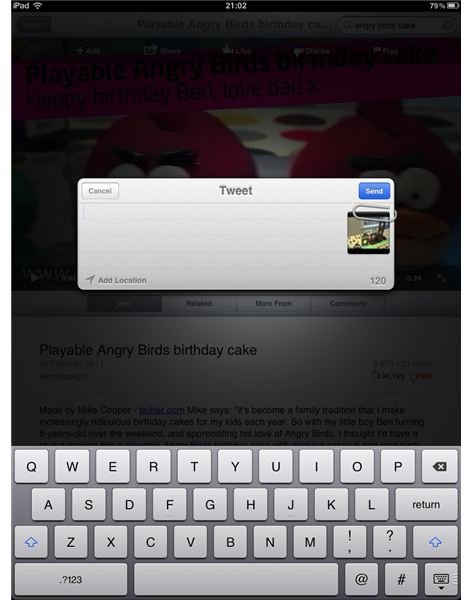 So much was made of Twitter integration that the reality seems a little flat. I like to tweet and I can definitely see some areas to shave a second or two off performing certain Twitter functions, but it isn't overwhelming. You'll notice it cropping up if you want to share a YouTube clip for example, and type your tweet right there without having to tap on the Twitter app's icon, but it's not anything that will blow you away. It is indeed useful and you just have to add your Twitter info in the relevant area in the settings menu and you're good to go – perhaps this one is a grower!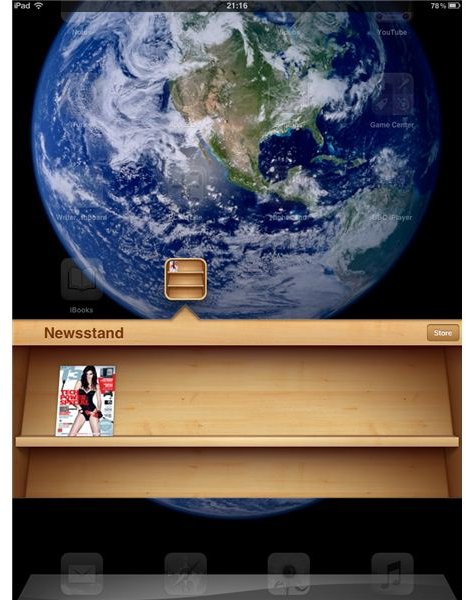 Newsstand has yet to bowl me over. It seems a little pointless, but maybe if you have a great deal of magazine subs you'll disagree. I didn't find it worked that well for me though, as although I have three subscriptions to different magazines it only decided to put one of them on my shelf – I'm guessing teething problems rather than a big concern.
Safari was an area that definitely needed to be improved upon and it is certainly better, but I'm still tempted to get another browser if I'm honest. The tabbed selections along the top are useful, that show recent places you've visited, and you can easily add something to your reading list with a tap – not exactly mind-blowing stuff.
The Bad
Where is Siri? I would ask her (seeing as she is such a clever little thing), yet only those with a shiny new iPhone 4S will be allowed to have her at their beck and call. Of course I knew this before testing iOS 5 for this review, but I still find it disappointing that Siri is AWOL for the rest of us. A few reasons for her absence have been tossed around among iLovers and the general consensus of opinion is that only the 4S has the power to handle her. I dispute this a little – there was already a version of Siri on the App Store which has now been taken off – but even if it were true I don't see how the iPad 2 wouldn't have the capabilities required.
I'm making the assumption (perhaps unfairly) that as many of us were disappointed at the announcement of only a 4S rather than an iPhone 5 they really needed a kick-ass USP to win us over and convince us that the 4S is a worthwhile purchase. Siri sounds amazing, I just wish those of us that don't have an iPhone 4S could have a version of her to play with – even if she was a younger, slightly less-organized, little sister.
The Ugly
Although there isn't anything glaringly ugly, there are things that could definitely make it more attractive. As an operating system that is claiming to be years ahead of the competition I still scratch my head and wonder why as users, we aren't given more freedom in the way everything looks. Of course it's more about function, but when you have such a lovely looking device on the outside you want it to look nice on the inside too – or on the screen anyway. The standard icons and shortcuts are starting to look like the old days of Microsoft Windows, and to me that is quite ugly. I would like to see things like the ability to have a photo frame on part of my homescreen, perhaps even a display with the news headlines that I could look at with a glance, rather than having to open apps for everything – it's getting a bit tiresome.
Should I Download?
Of course you should! iOS 5 is an improvement on what you have now and I'm not going to sniff at the fact that it was free and easy to set up and use. I love the notifications center especially which is a step in the right direction, iCloud is an amazing addition, and there are some other nice touches I really like. But I think the next big release really needs to give us users a bit more control over the look of our homescreens. And the fact that such a big deal was made out of Siri, yet it isn't available to anyone that doesn't have a 4S (even if we paid for it), is a major disappointment.
If you haven't downloaded it yet then go do it now… there's nothing to regret.
References
Screenshots taken by author.