Show That You Are a True 50 Cent Fan: 50 Cent iPhone App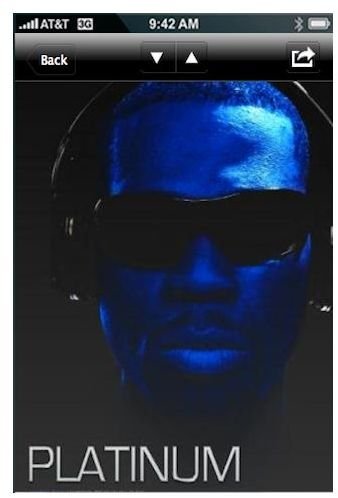 Curtis James Jackson III, better known as 50 Cent, is an American actor and rapper who rose to fame with the release of his albums "Get Rich or Die Tryin'" in 2003 (which was certified platinum eight times) and "The Massacre" in 2005. He has acted in numerous films such as "50 Cent: The New Breed" and "Before I Self-Destruct". With numerous awards attained in his career including the BET, Grammy, American Music Awards and others, 50 Cent has done well as one of the most successful rappers of all time.
The 50 Cent iPhone app is one of those apps that is popular with fans. It has a great design. The ease and flexibility provided nowadays in the form of these applications is quickly catching on. They allow firms who make such products to be able to form relations with famous stars all over, such as Lady Gaga, T-Pain and Soulja Boy. I will provide the pros and cons of the application and also provide purchase links so that you may buy the application if you so choose.
Another UberMedia Application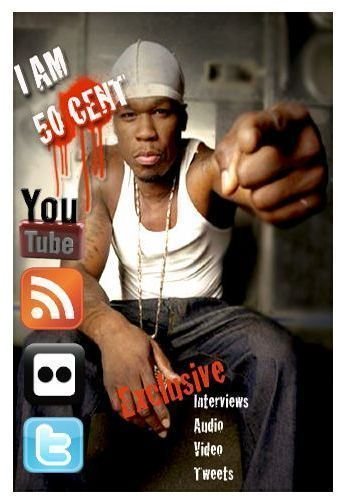 The 50 Cent iPhone application is targeted mainly at people who are fans of the artist. Made by UberMedia™, an independent maker of applications for Twitter, the 50 Cent iPhone application, called "Uber50" or "I am 50 Cent", has been made available in either a free version or a pay-to-have premium version, with artwork and sounds that have been recorded or selected by 50 Cent himself.
If you install this app then you'll also get access to videos, tweets and interviews from 50 Cent. The application can only be obtained by those who are 17 years old and older and it is a sure method of promotion for the rapper, who has been trying out entrepreneurial ventures throughout his career. The application is easy to install and use, with impressive background art themed on 50 Cent's record label, G-Unit. Imagine getting up-close and personal with every move made by your favorite rap artiste! Amazing!
Pros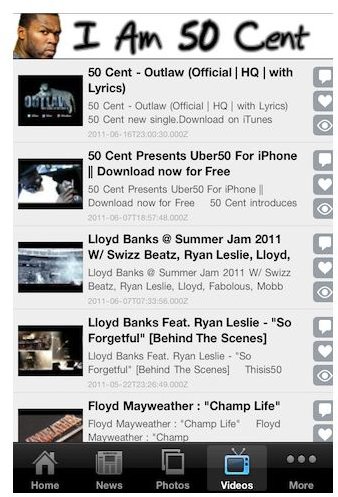 Any user of the 50 Cent iPhone application will not have to search for any information on the rapper, as it is all brought to their fingertips. This makes it easier to receive songs and see updates as they come. The application uses the UberSocial platform, and contains special sound effects done by 50, as well as exclusive artwork for your iPhone. Also, the icons and colors are gritty and dark, a well-chosen representation of 50 Cent and his G-Unit label, and he chose them himself.
You will never be behind on any new developments or releases with this app. In fact you'll become the person with news hot off the press before anyone else. This app will also be of use to gain exposure for the other artistes on the label, as being the president, 50 Cent can use this medium to share news, reviews and music from them as well. What I like about the application is that, if I want to see any video or hear any audio or sound effects from 50 Cent, I don't have much searching to do because the database is already on my iPhone. Therefore, repetitive downloading can easily be avoided and it is less tedious to access the media.
Cons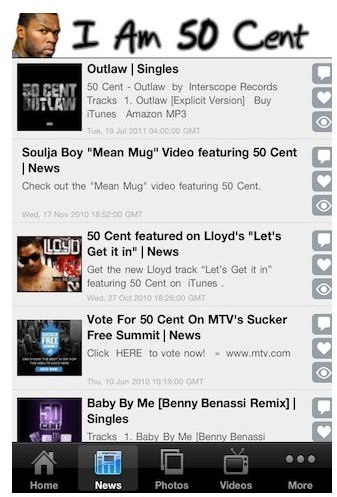 This application is only for mature fans of 50 Cent, and if you are not interested in lewd language, violence, or frequent drug and alcohol use, as well as tobacco, then this application is not for you. Indeed, most rappers such as 50 cent have a catalogue of music of this sort, more popularly known as "hood music" and as such the lifestyles and products they come up with may only appeal to a certain class of people.
The 17 year old age limit is there in order to prevent such an application being downloaded and used by a minor. If a teen under 17 wants to get the app then parental assent must be received – you would certainly not want your 5 year old learning and using certain signs and language found in this application.
Verdict (4 out of 5)
Personally, I think 50 Cent's career has been dying out gradually with his personal issues, and taking a step like this can help to revive his stance in the music industry. All in all, the 50 Cent iphone application is a creative way of an artiste expressing his or her self and getting those expressions out to the public.
This application is recommended to all fans of 50 Cent as a great collector's item and would be an investment for your money. A first effort in the way of iPhone applications, this is remarkable and easily comes across as something worth buying. The 50 Cent iPhone application is available for download for free or $1.99 for the premium version.
References