Photovine iPhone App Review: Photo Sharing Fun
The New Instagram?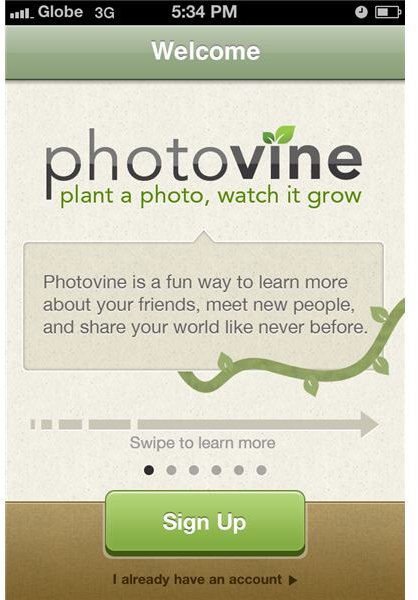 When Slide opened up the teaser site for Photovine, they gathered significant buzz and press coverage. I, for one was curious about it and registered for access to the beta. But before I could get hold of an invite, Slide decided to open up the app to the public. So the iPhone app was updated recently and they brought in the ability to sign up to Photovine. Once you've signed up and created your account you can start using the app and start "vining," so to speak.
Let's take a closer look.
How Does the App Work?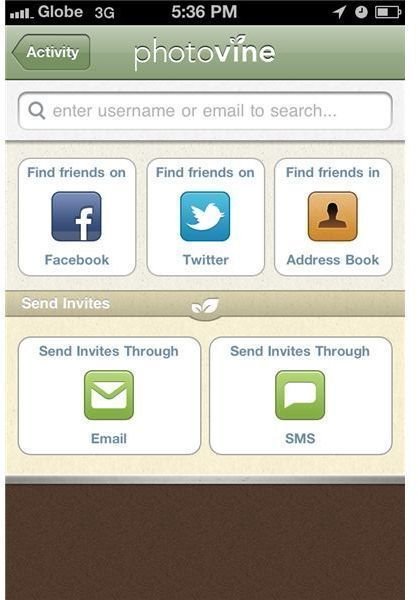 The premise behind Photovine is not just to allow you to share photos you've taken using your iPhone, but also to serve as a social networking site based upon a series of photos sharing a common theme. The first time you fire up the Photovine app for iPhone, you'll be guided on how to start using it. You'll be given four activities to complete first. You can either add a photo to an existing vine, set your profile photo, add your friends or start a new vine.
You're really not required to complete all of these four items, but for good measure, while you are familiarizing yourself with the app, you might want to run through these items first. It's a pretty good way of learning the app's ins and outs. But if you want, you can immediately check out existing vines started by other Photovine users. There are three categories of vine that you can browse – fresh, popular and watching. The watching tab will be empty for now and will be populated by vines which you have added photos to.
Below the app's main screen are five options that you might want to tap on one by one. The first tab, Activity displays all the photos you have added and lists which vines you have added them to. The app automatically annotates your uploaded photos with their corresponding vine title or category. You will also be able to view comments posted by other users to your photos, as well as the users who have viewed your photos. If the photo is not yours, you can opt to unwatch it and it will be deleted from your activity tab. Scrolling through existing photo vines and photos is done by swiping your iPhone's screen either to the left or right.
Next is the Vines tab which displays all existing vines created by Photovine users. Then you have the Create a vine tab, which opens up your iPhone's camera app. You can either take a new photo or use an existing photo in your iPhone's camera roll. When taking a photo, you can't do anything about it. It is uploaded as it is. It would have been great if the app would also let you add special effects to your photos before uploading them to the Photovine server. Just like Instagram does it. Hopefully, this feature will be included soon.
The last two tabs are the Inbox containing notifications for new likes, comments, followers and more on your photos and the Profile tab which gives you a summary of your followers, following and likes.
General Impressions About this App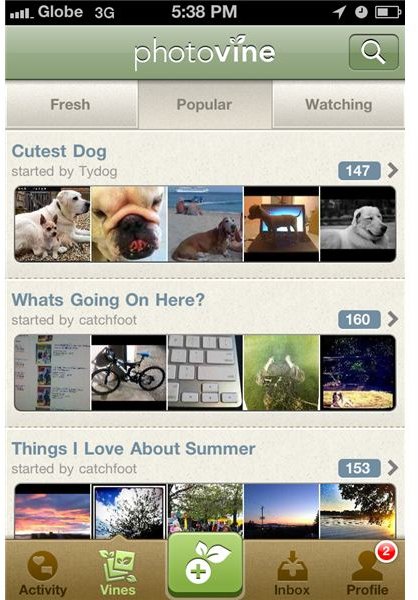 As an iPhone app, I have nothing much to say about Photovine. It has a great design and interface worthy of the Google ownership tag. The app works well and the premise of networking through photos with a common theme is one of its strengths as a social networking app. But like I said, Slide could make a little enhancement to the app. Particularly by adding some nice photo editing features to make photos more enticing and lively. Let's admit it folks, the default photo output of the iPhone camera is not really that astonishing. So, there is always a need to do some post-processing to those photos.
The question that remains to be answered is whether Photovine will be able to steal the current stable of Instagram users while at the same time building its own league of followers. Only then can it compete, if not beat Instagram, which is starting to lose its steam right now. Currently, Photovine is generating a good number of new followers but it will probably take some time before it can accumulate a good enough number to shake off Instagram's domination in the photo sharing mobile app scene. But having Google as its owner, I'm pretty they will have some good plans about expanding Photovine.
The Photovine iPhone app is available as a free download from the iTunes App Store.
References