Backing Up Your Photos with Corel's Slingshot App
With a camera on the iPhone good enough to use as many people's primary camera the value of apps that allow you to share and save those photos has grown. This has caused a flood of apps in the iTunes App Store and finding the best in that crowd can be hard. As a name that is already trusted in photography checking out Corel's Slingshot app is a great place to start, but not all that likely to be the end. This is a very simple app and that makes it an easy to use first app to both backup and share photos, but it lacks many of the features that most people are going to end up wanting.
The Basics (3 out of 5)
The primary value of Corel's Slingshot is the ability to easily and quickly send images to Facebook. This allows you to not only easily send the photos, but also to create albums in Facebook to organize them. You can even automate this process and allow the program to automatically post your photos to the Internet when you take a photo with this app. This can allow you to cut out many of the unnecessary parts of the process of backing up your photos. Still, while this is useful it is also most of what the app does. This makes it a far simpler program than most other iPhone photography apps. This simplicity is a mixed bag, because while it allows you to do less, it makes the things you can do with the app far less complicated to achieve.
Taking Photos (4 out of 5)
As a camera app this is as simple as possible. Starting the app you are able to see what the camera sees and simply push a button to take a photo. The only real option is the ability to adjust the contrast to make the image brighter. This serves as the closest thing that the iPhone has to a flash. Beyond that the photos can be uploaded easily, and captions can be added. This means that the time that you can save from using this app to upload photos will be lost if you actually want to alter the photos in any way on the iPhone because you'll need to load another app, change the photo then open it again in this app to upload it.
Uploading Photos (4 out of 5)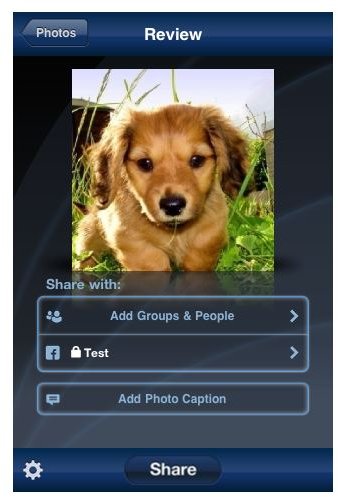 The real value of Corel Slingshot is not in taking photos but in uploading photos to Facebook. Once you have set up this app you are actually able to upload photos with a single touch of the button. You don't even have to save the photos to your iPhone photo roll if you don't want to. This gives you the great option of using this app when you want to simply upload photos and using other apps if you want them saved on the iPhone. This serves the purpose of backing up your images, as well as making it easier to share them.
Most of the value of this app is in your ability to share easily on Facebook. You can quickly and easily choose what groups you want to share these photos with or what album you want to put those images into. For those people who are very active on Facebook this ability to work with multiple groups is useful, but if all you do is update your own profile these options are going to be far less useful.
Other Options (3 out of 5)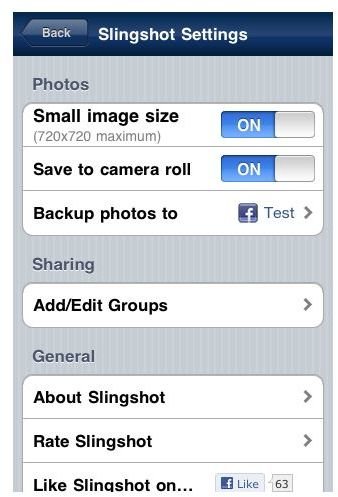 The other major option for this app is the ability to backup photos. The app does this by creating a Facebook profile album that only you can see. This is a good way to keep the photos safe, as Facebook is likely to be around longer than many of the other options for backing up photos. Still, having a few more options for where to backup would be good.
Another simple, but useful option, is the ability to save the photos in small image size. This makes the uploading of the pictures even faster. This could be worthwhile if you're taking a lot of photos, but for most people who are taking a lot of photos there will be better photo apps. You should also be aware that saving a smaller photo will make the quality lower.
Interface (5 out of 5)
The interface is the best part of Corel Slingshot. After having signed into Facebook once and set up the backup folder there is almost nothing to using this app. When you start Corel's Slingshot you are taken to the screen for taking photos which has a single button for the photos and a couple of basic options such as adjusting the contrast. This makes it one of the most simple and fastest photo taking and sharing apps and creates the primary reason to use this app. If you want to take and share photos quickly and don't care about doing anything else then this is the app to use.
Overview (3 out of 5)
If you are looking for features and options for sharing your photos then Corel Slingshot is not the best choice for you. On the other hand if you want to be able to upload photos to Facebook quickly without having to worry about trying to understand the interface or simply prefer to have separate apps for taking and altering photos then this is a good choice. This makes for an app that is underwhelming from a company that could do far more, yet one that is very good at the things it is designed to do.
(Cost: Free) Download Link
References
Source, author's own experience.
Images, screen captures from author's iPhone.