Review of Talkatone for the iPhone: Save Money on Texts and Calls
Being able to make phone calls with the iPhone isn't all that impressive, but being able to do so for free is a bit more useful, as is the ability to make calls with an iPod touch or an iPad by attaching a microphone. Talkatone allows you to use Google Voice, SMS messaging, and even checks your Facebook friends so you can talk with them.
While this app may take a bit of time to set up the first time you use it, once you have finished it is actually quite easy to use. Let's take a closer look at Talkatone.
Making Calls (5 out of 5)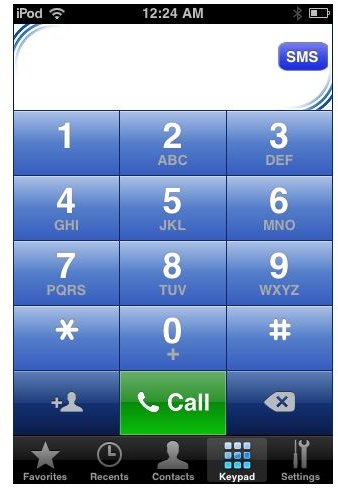 The primary use of Talkatone is naturally to make phone calls. If you have already signed up with Google mail then all you will actually have to do is sign in. If you haven't then having a Google mail address is well worth the time that it takes to set up and the prospect of free calls to the USA and Canada makes it even more worthwhile. Once you have done this you can simply type in any phone number and call. This app is also able to use contacts not only from the iPhone, but also from Facebook and Google. This makes it painless to begin to use this service quickly and easily.
Setting up Talkatone to receive incoming calls is a bit trickier, requiring you to change settings in your Google account, but in general it isn't all that difficult, it simply requires changes to settings that you can only access on the computer.
Texting (4 out of 5)
The other thing that every modern phone needs to have is texting functionality, but paying for texting is frustrating. Especially since text puts virtually no stress on even the weakest network.
The texting feature in Talkatone also uses Google, and Facebook, so you'll want to put in your passwords for both if you expect to get full value out of this. You will also need to go into Google's settings to allow this, but Talkatone shows you exactly how to do this, even including images and links to make it simple. Once you have done that you simply need to pick someone off the contacts list and you can very easily text them. Since this is free even if you don't plan to use this app to make phone calls you may decide to use it for texts.
Extras (4 out of 5)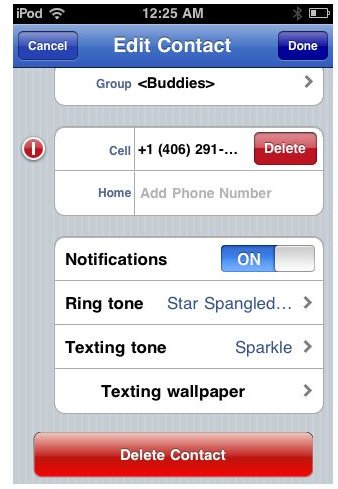 Talkatone has virtually everything you could possibly think of to put in a phone app, and many of the options are actually easier to use in this app than on the native iPhone. For example being able to change ringtones for anyone is very easy and adding ringtones to this app simply requires you to upload them to the app in iTunes. Once again there is a full tutorial on how to do this in the app which makes it very easy to do and you should be able to add almost any music you want because the app supports MP3s, WAVs and MP4s.
Interface (3 out of 5)
There is a lot to see and do in this app, but in general the interface is very clean. There are a few places where you have to hit the back button several times to get where you want, but generally these are when you are adjusting setting and other things you will only do rarely. For the day to day use you can get to the phone or contacts with a single button touch and the keypad is large and easy to use.
Things get a bit more complicated in the settings, but mostly that is because the app allows you a lot of options in the settings including changing the text font and size, wallpaper and virtually everything else you might consider important to be able to change.
Sound and Connectivity (3 out of 5)
Since this app uses the Wi-Fi option of your iPhone to make the calls for free you will naturally need to have your phone connected to a Wi-Fi network in order to get any value out of this. That said, this requires no effort in the app since the iPhone connects on its own. In addition even a weak connection seems to be enough for a conversation, though the stronger the connection, the better the call will be. Still, the sound is just as good as it is with a normal iPhone call in almost every case.
Overview (5 out of 5)
With so many people having difficulty using the AT&T network to make calls even those who have no issue with the cost of the iPhone may consider the possibility of using a Wi-Fi based option for the iPhone a bonus, and if you are considering any kind of VoIP option for the iPhone then this is well worth checking out. It is filled with excellent options and makes using Google Voice on the iPhone far easier.
References