Google+ for iPhone Reviewed
The All In One Social App
Google+ for iPhone, the newest free Google app from the App Store, promises to be your all in one stop for social media. Does it deliver? For the most part, yes. It's useless unless you have a Google+ account however, and these are invite only at the time of this writing. If you can get your hands on an invite, or are just interested in the way it works, read on.
Google+: How It Works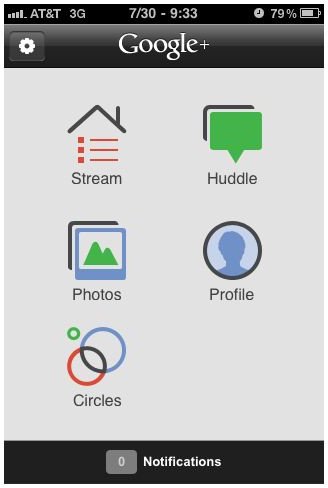 As you can see by the picture on the right, there are five main buttons, with an extra button each for notifications and a button which can let you bring up the terms of service, help, privacy policy, submit feedback, and sign out of your Google+ Gmail account. The app is simple to use and doesn't have any frills, but that's the point. The interface is simple and you will never feel lost. It does a lot of things other web services like Foursquare, Facebook, Twitter, and Flickr do, but it does it all in one place, and it doesn't bug you to perform any chores on anyone's farm.
The Buttons
Stream: There are two buttons at the top of this screen: one for checking into a location, and one for making a status update. There are several subtabs here activated by swiping left or right. These are "Incoming," "Circles," and "Nearby." "Incoming" displays posts directed at you, while "Circles" shows posts made by people in your Circles, which will be discussed more below. "Nearby" shows the public posts of anyone nearby who have enabled their location. Tapping on a post lets you "+1" it, which is the Google+ app's equivalent of Facebook's "Like." This area of the app is like a combination of Foursquare, Twitter, and Facebook.
Huddle: A Huddle is a sort of group Google chat, and this area acts like a chat room. It acts like an instant messaging client like AIM or MSN.
Photos: This area has four buttons that let you see: photos from your Circles, photos of you, look at and sort albums you create online, and upload photos from your phone. It also has two buttons at the top that activate the iPhone's camera app if you want to take new ones, or look at the photos on your phone. It's basically the same as the built-in Phone and photos app, but this saves time and effort as you don't have to exit the Google+ app. You can upload every photo on your iPhone at once, if you need them all on the Google cloud right away. This actually is a lot easier than uploading a phone to Facebook or Flickr, which is also what this area of the app is most like.
Profile: From this area of the app, you can see your profile, with your picture and bio, with your posts and photos available under separate tabs on the bottom. You can't edit your profile at all here, though. I guess that's for the Google website. You can comment all you like on your posts and photos here though, as well as delete them if you choose. It's very much like a Facebook or MySpace wall, despite not being able to change your profile information.
Circles: Here's the thing that separates Google+ from the rest…. Circles. You can easily sort all your contacts into different groups called "Circles," from Friends, Family, Acquaintances, or people you're just interested in following online. You can make as many Circles as you want, and have people in multiple circles. It's all up to you. This is a huge improvement over Facebook's clumsy Feed sorting. Almost every aspect of this app lets you control what Circles see which photos, links and posts, unlike Facebook and MySpace's shoveling every single thing you do online in one big hard-to-sort lump.
There is also a status bar at the bottom which you can tap for status notifications, and a little gear shaped button at the top for the technical bits like the help files, terms of service and submitting feedback.
The Verdict (5 out of 5)
Google+ for iPhone is a simple, efficient app that does exactly what it's advertised to do. There aren't a lot of unnecessary frills, but then again, Google+ on the web doesn't have them either. It's not Facebook, after all. You'll feel as if something's a little off until you realize that you aren't being constantly bombarded with useless distractions and are able to find what you're looking for without looking very hard. You will be able to find your friends' photos and streams with very little hassle. There are only a few buttons, and they all lead where you expect them to.
The only negative thing I have to say about this app is finding someone who is able to give you an invite to Google+. It's useless without it, but otherwise, well worth your time. It's available for free on the Apple App Store.
References
Apple App Store, https://itunes.apple.com/us/app/google/id447119634?mt=8
All screenshots provided by author