This innovative iPhone app is all about helping you to create sequences and mixtures of images. You can combine multiple images to create a story and then easily share them with friends and family. It's well designed and packed with options so it should come as no surprise that it's taking off in a big way.
How Do You Use Diptic?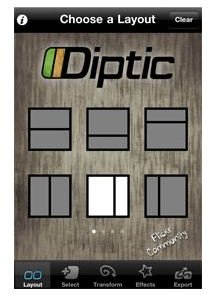 You begin using the Diptic app by specifying one of five different layouts for your photo arrangement. After you select the layout, you can fill each space with a photo from your device library, or you can use your iPhone camera to create new photos to be used.
Diptic uses the same types of touch controls that any user of an iPhone will be familiar with in order to transform the photos within individual frames. You can use your finger to pan around the image, or zoom in and out by pinching the screen. If you tap a photo, a menu opens up for mirroring the photo or rotating by 90 degrees.
You can find sliders for changing brightness, contrast and saturation adjustments in the Effects section. The developers of this app give you enough control to make side-by-side adjustments to your pictures so you can achieve visual consistency or create contrast.
You can also adjust the thickness and color of the borders that frame the pictures using simple controls. You can remove the border completely by reducing the thickness until it disappears.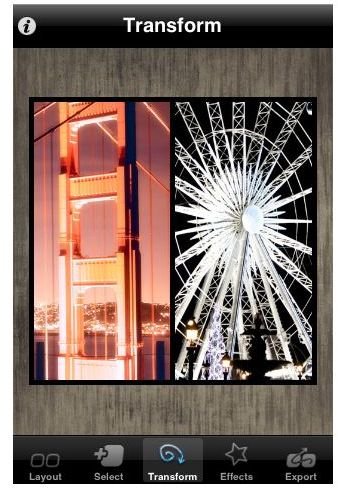 They offer two export options for your images. You can save the final image to your Camera Roll, or you can email it straight from the app, or post it on Facebook, Flickr, or Posterous. Images can also be exporterd as normal or high resolution.
The resolution output is set to 1024 x 1024, which is fine for the iPhone. This would need to be increased for the iPad, however.
Diptic is great but it isn't perfect. It doesn't save your image on exit, and you have no way to save and load the image manually. They are planning on adding this functionality in a future release, however.
I've had great fun using Diptic over the past few days. It's fun finding new and creative ways to display the photos on my iPhone. I'm already thinking of ways I can tell my visual narrative story with my pictures using Diptic.
Features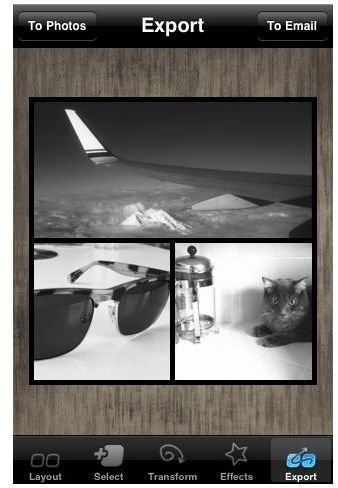 Using Diptic gives you the ability to take several photos from your library, and arrange them into one of two dozen predefined layouts. You can purchase expandable layouts through a 99 cent app purchase from the App Store on your iPhone. The default layouts in Diptic are square layouts. The expandable layouts can be adjusted to any size. Each layout is comprised of two to four sections, which can be filled with one photo, or you can choose several different photos.
The app is broken down into five areas that are shown on the bottom tab bar. When you open Diptic, the Layout section opens presenting you with a variety of different options. Each layout is a square that is broken up into two, three or four sections. Some layouts have even-sized sections, and some have half a square dedicated to one image. This allows you the flexibility to focus the viewer's attention when needed, or present all images equally.
After you select the layout you want, it expands to fill the screen of your device, which is the Select area. Each selection is gray by default. If you touch a section, Diptic will prompt you to select an image. From there you can choose to take a new photo with your iPhone camera or select an image from your library.
Once you have chosen your photo, it can then be stretched and rotated to fit perfectly. Diptic then gives you many different ways you can manipulate the photos. Saturation, contrast, and brightness can be adjusted individually for each picture to create many different looks, as well as the thickness and color of the borders that frame each layout.
With the many different options Diptic offers, you never have to worry about running out of things to do or try with this photo app. One good thing about Diptic is that it is easy enough to use, and it only takes a few minutes to learn how to build a beautiful image.
Overall Rating (5 out of 5)
At only $1.99, this is an essential app to have if you enjoy taking and editing pictures on your iPhone.
Combining images to tell a story is a technique that dates back to Ancient Greek times. Diptic, whose name plays off this Greek term, is an iPhone app that easily allows you to mix photos to create new stories. I highly recommend this app, but warn you that it can become addictive. Once you get started, the ideas for things you can do with your photos are endless.
You may also be interested in reading about the top ten iPhone camera apps.
References
All screenshots courtesy of the developer.