Molenotes iPhone App Review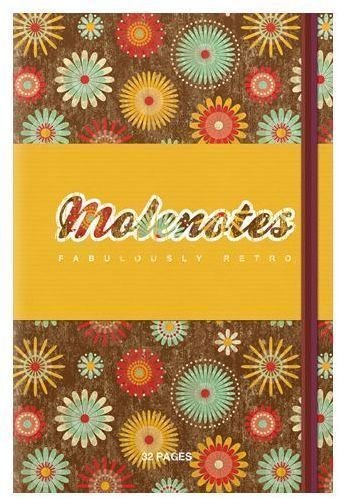 The default Notes app for the iPhone and iPod Touch is functional, but not very fun or interesting to use, not to mention cluttered once there's more than a few notes. Meernotes (formerly Molenotes, the name was changed in a recent update) is a "replacement" for the standard iPhone Notes app. It adds a number of great features and functionality that you won't want to do without once you've used it. Instead of a cluttered virtual legal pad dense with notes, Meernotes gives you virtual mini-notebooks with an assortment of neat options and analog aesthetic.
How It Works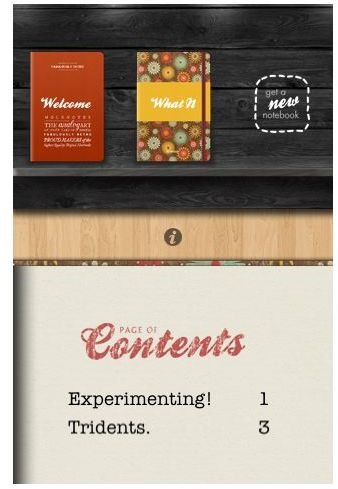 The app comes with a premade notebook teaching you how to use it, which may be erased if you so choose. The app's developer invites email comments on the last page of this book, which is a nice personal touch.
The controls are simple and, for the most part, easy to pick up. Your notes are sorted into virtual analog notebooks with an index at the front. Each new notebook you create can have one of five covers, and one of three fonts. These are locked in upon creation, so be sure to choose something that appeals to you. Tapping the top of a page allows you to stamp the day's date, bookmark the page, or create a header, which is automatically indexed at the front of the notebook. The pages can be swiped left and right to change the page, while swiping down brings up the menu for creating, selecting, or deleting a notebook. Swiping up brings up a menu for user created tabs, which may be color coded and labeled as you see fit, as well as a tab for the index.
Some of the buttons are a little small, and deleting tabs was a little sticky, but there's little chance of deleting something by accident. A couple of controls seemed a little odd at first, like naming a notebook by tapping and holding it, but since tapping the notebook opens it, there probably weren't many choices there. For the most part, the controls are easy and intuitive to use.
The author promises new gestures and features in future updates, such as tearing out a page and importing your notes from elsewhere.
Notable Features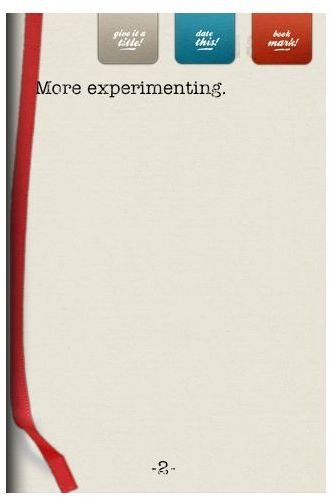 One of the strong points of this app is the virtual analog feel, making the mini notebooks feel more tangible. Since the iPhone is about the same size as a mini notebook, the analog notebook look is a strong fit.
You can mark a page with the day's date to indicate a change, keeping the note where it is in your personal sorting system.
It can be synced with your Dropbox account, if you have one, making transferring notes between phone and computer a bit easier and quicker than plugging your phone in and opening iTunes.
There is an extensive indexing feature, in addition to the ability to add colored sticky labels to and bookmark pages. If you're the type that likes or needs to organize your notes, this app is a far better note taking app than the vanilla iPhone one.
The ability to "hide" the iPhone's virtual keyboard with the addition of another button at the top. This may seem trivial, but it's a useful feature the iPad has that the iPhone doesn't by default due to screen size. Getting rid of the keyboard with one tap is more convenient than tapping elsewhere on the screen while hoping you don't trigger the copy/paste gesture on your iPhone's touch screen.
The author is constantly improving the app with regular updates, as well as recently changing the name.
Pros and Cons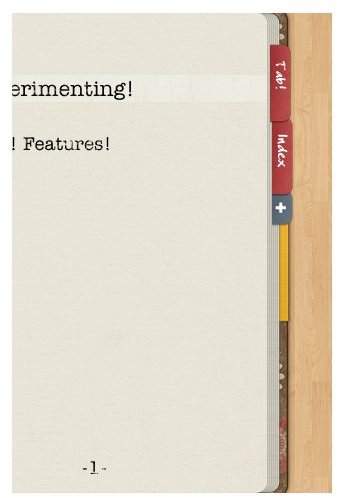 Pros
Can keep your notes the way you want, with tabs, indexed page headers, and even separate notebooks.
Beautiful retro notebook aesthetic, with choices to personalize each virtual notebook.
Syncs with Dropbox so you can easily share your notes with friends and coworkers.
The app teaches you how to use itself in a friendly straightforward manner, and invites feedback.
Cons
A few of the touch-screen controls are counterintuitive at first.
Some of the buttons are on the small side, but functional.
Worth Purchasing? (5 out of 5)
This app is a visually appealing and retro way to take notes on your iPhone. It works exactly the way it's advertised to work, with more features than the standard iPhone Notes app. If you take notes on your iPhone or iPod Touch, this is a solid choice for 99 cents on the Apple App Store. If you don't really take notes on your phone, this probably won't make you any more excited unless the reason you don't take notes is the clutter the standard iPhone Notes app accumulates.
You may also be interested in some other third-party iPhone Notes Apps.
References