Tracking Your Business Trips with the MileBug App for iPhone
If you have every driven for a business you know just how frustrating and important keeping track of miles, expenses and times of trips can be. Writing down everything on scraps of paper can work, but it isn't easy or professional. So, if you're going to be carrying your iPhone anyway there is no reason not to keep track of all of that information on the device. MileBug can help you keep all of that information organized, as well as making it look good when you print out a copy for work.
Basic Use (5 out of 5)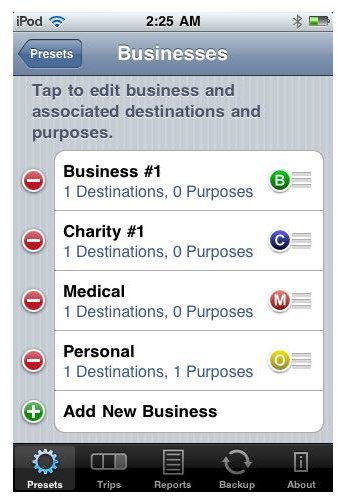 The primary use of MileBug for most people will be to keep track of trip expenses for a business. This fits the asthetic design of the app very well as it is easy to use but not particularly interesting to look at. This doesn't really matter though, beacuse the forms are very easy to fill out and the information is organized automatically. It isn't meant to be a fun app but a utilitarian one.
Since filling out all of the forms in MileBug is work the app helps you by saving all of the information. Because of this you only have to enter most of the information once and it even lets you create favorite trips so that you can save things in a few strokes. That way you could set up your daily commute easily in order to keep track of mileage and the car that you use each day. It also means that the longer you use this app for, the more information is going to be saved in it, and the easier it will be to set up new trips.
User Interface (4 out of 5)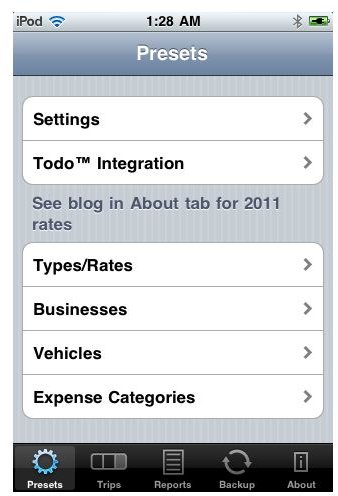 At first look the MileBug interface is a bit intimidating. There are few of the icons that mark simpler apps and, since it's likely this will be suggested to employees rather than picked by choice, the desire to use it will be less. The good news is that once you get past the utilitarian appearance of this app it is actually easy to navigate, given the amount of data which can be saved and recorded in this app. Though it can look difficult, if you really focus on this app you should be able to understand most of its uses within a few minutes. After trying it out once or twice you should know how to do everything. That is because the developer focused more on the long term value of the interface rather than making it look good for the first few times you use this app.
The only thing that is at all difficult is the ability to save this information. Reports from this type of an app are very important. This really isn't too tough though. From any place in the app the reports button is at the bottom of the screen. At this location you can not only preview the report easily enough, but also email it to anyone you want in either HTML or CSV format, meaning that there actually can be a hard copy for the office.
Free or Pay Version
There is both a free and a pay version of MileBug which costs $2.99 and, unlike many apps, the free version is quite usable with most of the features of the full version. This leads to the simple question of – what do you get for your three dollars? There are three main values added to the app by paying for it. The first is that it lets you keep a record of more than 10 trips. This is useful, but if you print out and delete your trips you could potentially keep less than ten in this app, especially if you don't use it a lot. The second is GPS path tracking which is something that many people will find themselves using, but many won't. Finally, it comes with the ability to back up your data which is of course important, but if you're printing out information it becomes less valuable.
In general, if you don't plan to use this app often then there is no reason that the free version can't do everything that you need. It will record all of your information and let you keep a physical record of it. There is really no reason not to download the free version of the app and use it until you begin to run into problems the full version will solve and then get it. Of course if it is for a business and your boss suggests getting it then it is only three dollars and it probably doesn't matter all that much if you like it or not.
Overall (5 out of 5)
Anyone who regularly has to keep track of trips should at least try the free version of this app because it has the potential to create far better looking trip reports, keep track of mileage, cars, costs in a far more professional format and make your life a fair amount easier. For those who do not go on regular business trips, though, this may be overkill for keeping track of your family vacation, but it would work.
(Cost: Free, $2.99) Download Link
References
Source, author's own experience.
Images, screenshots taken by author.