LOL it Up with I Can Has Cheezburger App for iPhone
For those of you that have never heard of the Cheezburger Network let me give you a little background. In 2007 a blog was created that added teenager text type captions to pictures of cats and other animals in an attempt to be humorous. It was such a big hit that a website was created and now the official app is here.
These pictures are the ones you are getting and forwarding to your friends, talking about around the water-cooler, and still laughing about when driving home in the car. Here we take a look at its features, functions and ask if it's worth the download.
Features and Functionality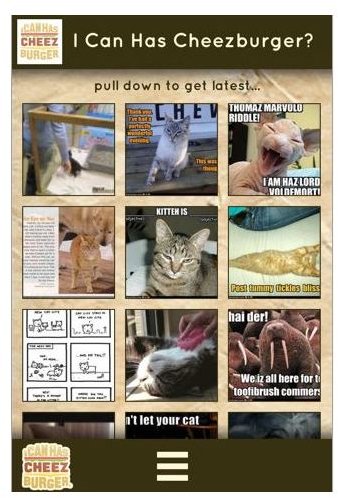 I became an instant fan of the original website, so once I heard that there was an app I was excited to check it out. Let me tell you that, although the graphics were quite enjoyable, and I got to see all of the same hysterical comedic cats as the website, the functionality of the app was below average. When launching the app you will see a bunch of thumbnails and directions to pull down to get the latest pictures. Once you click on the picture that you want to see you have the option to share it via Facebook, Twitter or email. If you click the bottom, middle, main menu button you have access to a number of other photos in the Cheezburger network such as, I has a Hotdog, My Food Looks Funny, Tots & Giggles and many more. You can also click on LOLMart where you can purchase merchandise.
Overall, the functionality of this app needs improvement. As for the features, they are basic thumbnails of categories to select pictures. If the developers read the comment section where users report their issues then they can improve this app with a little imagination and organization.
Is it Worth the Download?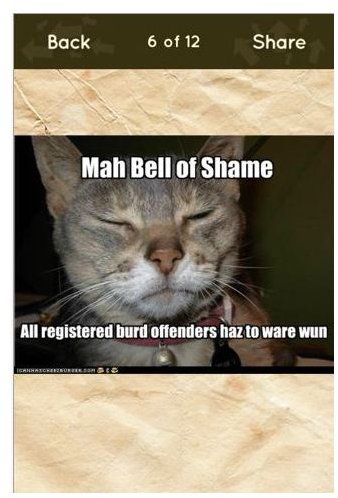 Unfortunately, there are more than a few shortcomings with this app. In order for it to function adequately it will need a lot of work. First of all, it is extremely buggy. In order for me just to review this app I needed to remove the app and download it four times, just so I could see all it had to offer and give it an honest review. Second, the buttons kept disappearing, so every time I went to hit the back button it wasn't there. After I checked out the Tots & Giggles category I was stranded there because the main menu button vanished. It also took a very long time to load the pictures. This app is so glitchy that it doesn't stay open long enough to load all of the pictures in the category I selected. Lastly, with a boat-load of pictures in each category why don't they all have captions? I thought that the point of this app was to make us laugh with the captions.
My biggest gripe is that there is not an option to save the pictures. With the amount of pictures to browse in each category there should be the ability to save a picture to your favorites section or your camera roll. So, is it worth the download? For a free app I would usually say yes, but with so many major glitches, I would have to say don't waste your time until they are fixed.
Overall Rating of I Can Has Cheezburger App (2 out of 5)
I gave the I Has Cheezburger app two stars out of five because it needs a lot of improvement. The interface is just ok and it functions below average. Considering this app is free, I didn't expect a lot, but I did expect it to work without crashing every time I opened it. It was extremely annoying and frustrating to erase and re-download this app just to be able to get through all of its features. In addition to that I wasn't able to enlarge any pictures or save them to view later.
The bottom line is, if they fix all of the major bugs and give the option to enlarge and save pictures, then it could be a great app. In order to get your CatLOL on, you will have to stick with the website for now. Hopefully someday this app will be fixed so you can enjoy seeing the pictures on your iPhone without having to restart the app. If you do choose to download it, I would recommend sharing your comments with the developers so they can improve it.
References