MTV Push App Review: Discover New Music on Your iPhone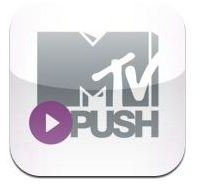 After years of watching music videos on MTV I was extremely disappointed when I noticed that the videos were slowly disappearing and reality television started taking over the network. As times changed MTV has proven it can change with them. Just when you thought learning about new artists was a thing of the past, MTV has launched an iPhone app that is aimed toward featuring new, up and coming artists.
The point of this app is for users to discover new artists or get access to information on familiar artists. MTV will spotlight a new Push artist each week. P.U.S.H being an acronym for Play Until Someone Hears. Each artist will have one week to shine. Users will be able to access information about each artist through features such as – videos, bios, news, photos and songs.
What are the Features?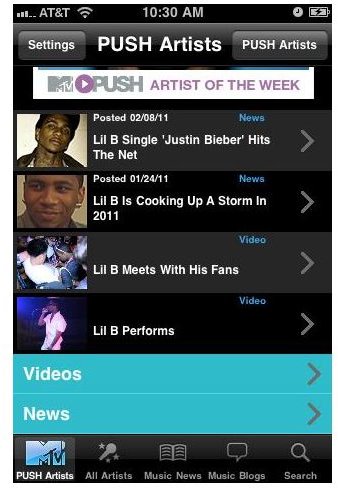 When you first open the app you will notice a very polished, well organized app with a sleek and simple to use interface. You will find that the app is broken up into categories such as – Push Artists, All Artists, Music News, Music Blogs and Search. We will first take a look at the Push Artist category.
Push Artists • Each week the app spotlights a new artist. When you click on the Push Artist category you will see the featured artist's photo followed by the option to click on video, music and their bio. My favorite feature of this category is the ability to listen to the first 30 seconds of a song and the option to purchase the music. There is also a Push Artists button in the top right hand corner where you have access to all of the past featured artists as well.
All Artists • In this category there are 20 of the top artists featured. Here you can access video, news, photos, music and bios of your favorite top artists. Another cool feature in this category is the ability to view related artists and the option to view the artists as a list or as a thumbnail.
Music News • Remember the MTV newsroom when Kurt Loder would come on MTV for an up to the minute music news update? Think of this category like that, it features up to date news on the top artists.
Music Blogs • This is where you will find information from MTV's Buzzworthy Blog, MTV Hive Blog, The MTV Newsroom and RapFix. I like the fact that there is access to all the latest blogs but I would have liked it more if there was the option to see the video and/or photos that accompany the article, like on the website. Also there is no space for comments, whereas on the Hive Blog there is.
Search • Here is where you enter any artist that you want more information on. I think this is an important feature to have because they only feature the top 20 artists and about 15 push artists.
Are there any Hang-ups?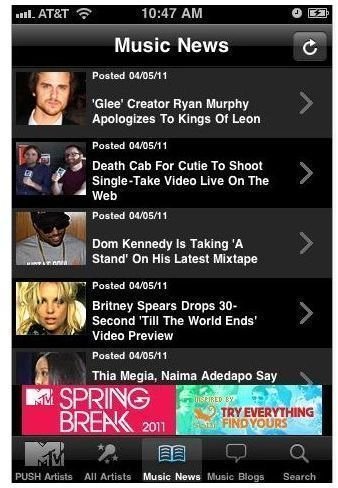 I have not come across anything that would make me say this app is bad or needs any kind of major improvement. You can always find something to improve in any app. I have read in reviews that it can be buggy and the videos are old, but that is not the case for me. I was extremely excited that I could watch videos again!
I love the fact that you can watch the emerging artist video and have "behind the scenes" access. My favorite feature is the music samples. I can sample the music and if I choose to download it, it will take me right to iTunes. Another great feature is the tour dates. Now instead of searching online, I have access right on my phone. It would be great if you could purchase tickets right from the tour date category but I'm sure that option will come eventually.
As far as all of the features go, I think MTV did a great job in implementing a well organized, easy to navigate app. The related artist feature is one that everyone is raving about. MTV is sure to please all music lovers with this new app.
Should I Download it?
Overall, the MTV Push app has amazing features that will help users to learn about exciting, new artists. The functionality is excellent and the graphics are enjoyable. The bottom line is, considering that this app is free, it is definitely worth the download. This is a must-have app for any music lover. Give it a try and let me know what you think in the comment section.
Download MTV Push from iTunes (FREE)
References
All screenshots courtesy of the developer.