Using Yelp to Find Local Businesses on the iPhone
Shopping on the Internet is vital if you want to find a good deal on a product. The difficulty with the Internet is in services that can't be mailed to you. Restaurants are the most basic of these types of services which don't do any good if they are not nearby. That is why location based services are so important and one of the best of these is Yelp, a service which combines location based search along with thousands of reviews so that you can find those special places that are nearby. With Yelp you can combine the value of local with the power of shopping on the iPhone.
Yelp Basics (4 out of 5)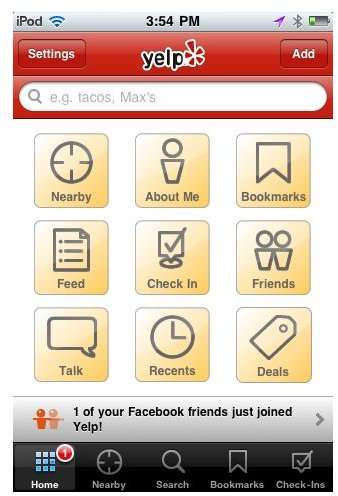 What gives Yelp an advantage over so many other apps is that it has two very good values. The first of these is that it helps you to find local businesses of a wide variety. What gives this a real edge, at least in my area, over other types of location apps is the number of reviews of businesses you can find. In addition, this app has a check in feature which lets you replace apps such as Foursquare in addition to sometimes getting deals from businesses for checking in and most recently a deals feature which can help you to find local specials, coupons and more.
Locating Businesses (5 out of 5)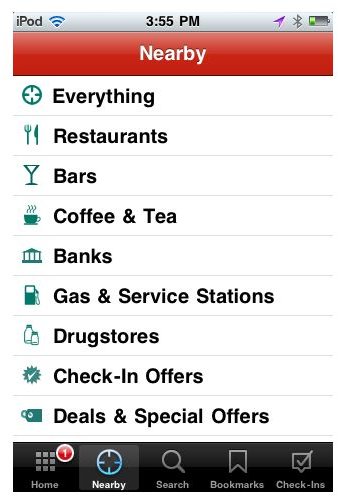 The primary value of Yelp is finding businesses and it does a great job of this in a number of ways. Nearly every app is able to access similar records for the businesses, meaning that their lists of business are similar if not the same. What Yelp does to get an advantage over the others is to cover many categories and provide a search function. The categories include, but are not limited to, restaurants, bars, coffee & tea, drugstores and banks.
You can also see all the businesses on a map and of course read the reviews. This is a bit less useful in your local area but if you are traveling the ability to know where you are at and find out what is around is extremely useful. The map makes it far more likely that you'll be able to not only locate a business you're interested in visiting but be able to find it.
Reviews (4 out of 5)
Since it is difficult or impossible to trust any single review it is vital to have multiple opinions. This is because a single review is difficult to trust, and often overly biased. In Yelp, you will almost always find multiple reviews on any of the larger restaurants. This means that you can judge places far more clearly and get a lot more information. They also have quick tips. These are valuable because rather than a review they are more focused. Generally the idea for these is to suggest which meals you might want to try, but they also include points such as parking, finding the business, hours and other ideas that can be just as vital as the review itself.
On the other side of the reviews it is very easy to leave a review. Whenever you look at a business you will see an add button. Click on this and you'll be given the option of quick tips, reviews, check ins or bookmarks. If you choose review you'll be given room to write a review and the option of rating it one to five stars. This lets you put in information quickly, but in order to actually post it you'll need to go to the website, an extra step that is a bit limiting.
Yelp Deals (3 out of 5)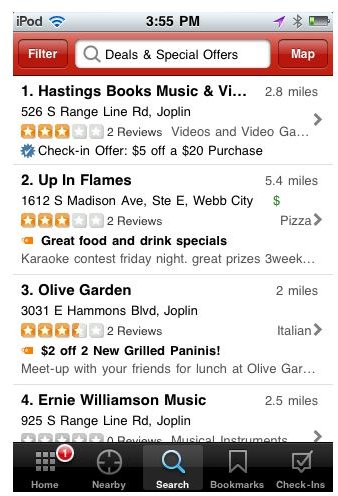 As one of the newest features of Yelp it is impressive how quickly they have build up the deals. These come in a couple of basic types. There are those which are simply advertised here but available to anyone, those that require you to use Yelp effectively as a coupon, and there are check in specials where you'll get a deal if you check in at their location.
There are a number of each of these and while trying to use this you'll likely find that most of them are not going to be relevant but there is a lot of potential here and the setup for it is very good. So while Yelp isn't in the Groupon league when it comes to saving money, given a bit of time it may be every bit as good and even now if it has a deal that is valuable to you it is just as good as any other deal you're likely to find.
Usability (4 out of 5)
One of the best features of this app is just how quick and easy it is to use. There are a number of features in this app and each of them is easy to find in the app. This means that even if you choose to use the app differently than someone else you'll generally have to put no more effort into it than someone else. What this means is that whether you are looking for a specific type of restaurant, the best reviewed restaurant in an area, a map to some place specific or even if you want to leave your own review, this is generally going to be the easiest way to do it.
Overall (5 out of 5)
One of the hardest things for any iPhone app to achieve is a community that adds to it. Yelp has that community with many people adding reviews and other information. Combine that with the general ease of using this app and you have a winner on your hands. So while there are a few minor flaws in the app, the fact that you will find more information about what you want to know in this app than in any of the others trumps those flaws easily and adding Yelp deals to an app that was already worth using is just a good bonus.
(Price: Free) Download Link
Resources
Source, author's own experience.
Images, iPhone Screen Capture.