Improving iPhone Photos with Camera Plus Pro
The camera on the iPhone is actually a pretty good camera and best of all it is a camera that you will almost certainly have with you when you need it. But, while the camera itself is good, the software to run it could use improvement. That is where Camera Plus Pro becomes valuable. It can let you take pictures, find pictures and manipulate pictures all from inside the app, potentially allowing you to replace the iPhone defaults entirely with a photo app.
On top of all of that, once you have taken a good picture and adjusted it with the built in features, you can easily share those photos on Facebook, Twitter, Flickr or Picasa. It can even be used to share images using FTP or Wi-Fi. So, if you plan to use the camera on your iPhone much then this is an app you may want to consider.
Taking Pictures with Camera Plus Pro (4 out of 5)
Camera Plus Pro adds several valuable features to the iPhone. It has all of the features that you expect from the iPhone camera as well as a few that were not built into the default iPhone camera. These features include zoom, video mode, burst mode, time lapse, a timer and a few more options.
None of these will actually increase the resolution of the image, of course, but they can help in a lot of other ways making the iPhone into a camera which will be far more valuable. And since the actual process of simply taking a photo is not really any more difficult, it is well worth using, because the many features will make your photos look much better. The one drawback being that taking the photos can be slower than with the default program.
Managing Your Photos (4 out of 5)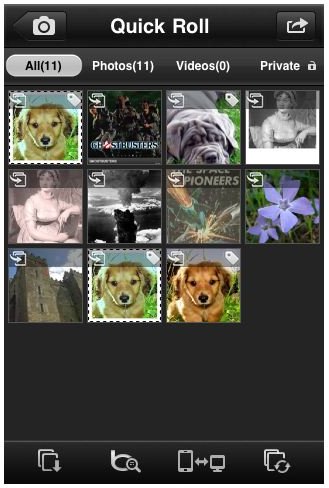 Any pictures that you take with Camera Plus Pro naturally will go into its photo library. Yet you can also add photos from your iPhone's memory easily enough. You simply go into the quick roll section and choose the first of the menu choices. This will take you to your photo album letting you import them. This is a one at a time process, which is one of the major weaknesses of this app, but if you actually migrate to this app then that doesn't really matter all that much because you won't need to do it once they have been moved. Moving them the other way is far easier as the last option of the choices on that same menu syncs to the camera roll.
The other way to manage the photos is through the use of tags. Tagging photos in this app is very easy as well. From the quick roll you'll find the button in the top right hand corner which takes you to the select screen. Pick any photo and you'll have a few options. The center one is tagging it. Once you have chosen a tag you can choose as many pictures as you want and tag them simply by touching them, allowing you to go through dozens of pictures quickly.
Altering and Fixing Your Photos (4 out of 5)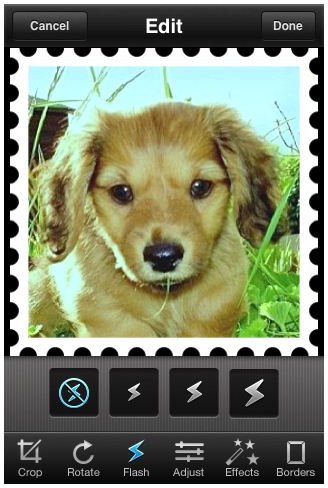 While there are occasions when a picture comes out so nearly perfect that you would never want to change it, far more often it does not. There are dozens of programs you can use to alter photos, but none of them are going to be as easy for a quick change as the app that you took the photo in. So, while there may be apps which can do more with a photo this one has the most common settings.
Camera Plus Pro offers the basic photo manipulation choices. These are very useful for adjusting photos such as cropping a picture, or perhaps most important adding a virtual flash. With this you can brighten an image at a touch. You can also adjust tint, contrast, hue and a few other basic settings. You can also adjust color settings in a few ways.
Sharing Your Photos (5 out of 5)
Once you have taken a great photo there is only one thing really worth doing with it and that is sharing it. This app has all the major bases covered. To share a photo you simply have to go into the select screen, pick the photo you want and it gives you basic choic

es. These include email, Facebook, Twitter, Flickr and Picasa. Most people will find at least one of those options ideal for sharing shots with friends and family.
The other choice is even better in some ways because it is far less common. You can move photos very easily using either FTP or Wi-Fi. In order to do this you'll have to type a web address into your computer's browser and you can download the photos very easily. The advantage of this is that you don't even have to connect the iPhone to the computer. This can also make it easy to share the photos with someone else, so long as your iPhone is connected to their network.
Interface (4 out of 5)
Once you learn the interface of Camera Plus Pro it seems very easy to use, but it does take a bit of time to get used to it. Moving from one section of the app to another is not always as easy as you would like requiring a couple of steps and finding how to do specific things can sometimes be a bit frustrating. This is only in a few places though and after using the app a couple of times you'll know where these are and the problems will disappear.
Overview (5 out of 5)
Nothing in Camera Plus Pro is entirely perfect, but everything is good. In addition, the fact that you can do all of this in a single app makes it a very attractive prospect. So while you could use Camera Plus Pro as an addition to your iPhone's default camera the best advantage of this app is to completely replace the iPhone camera. The only real drawback is that some people find the app a bit slow at taking pictures and it will take a bit of time to get used to. But if the speed doesn't bother you then you can almost certainly use this for the vast majority of your photo taking needs and likely have far better pictures in the process.
(Cost: $1.99)
References
Source, author's own experience.
Images, iPhone screen capture.
Images, Windows screen capture.