Mobli App Review: Photo Sharing on iPhone
As the camera on the iPhone has improved so has the value of being able to share and look at photos. One of the apps that has been designed to aid people in sharing photos is Mobli, an app which lets you easily share photos, as well as giving you a number of different options to find the images that you want to see. Using the power of social media it can create an excellent experience and allow you to keep in contact with friends and family in an interesting new way. It takes a number of ideas that were already possible to find on the iPhone and gathers them into a well designed and cohesive package.
Sharing Your Photos (5 out of 5)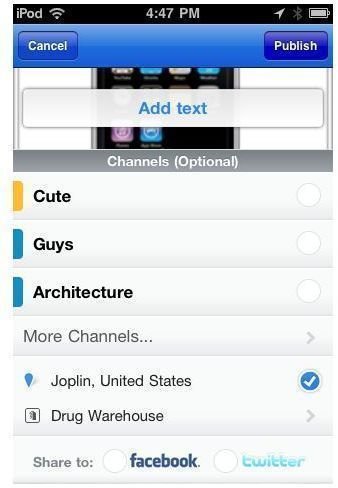 One of the primary uses of Mobli is to share your pictures with the world. Doing this is not difficult. From almost any place in Mobli you will find an icon of a cloud with an arrow inside on the top right hand corner of the iPhone. If you choose this it will take you to all of the images in the iPhone memory. Once you have chosen the picture that you want to use you are given the option to add text as well as to choose three channels to help people find it. These channel choices are a bit limited, but there is almost always at least one that will fit your category and often there are two or three. This limitation in choices also means that people can search them far easier. In addition, once people have found your images there is an option for them to follow you so that you can potentially build up a following and get both likes and comments quite quickly.
Searching Images (3 out of 5)
If you want to try to find a specific type of image on Mobli the best choice is to use the search function. This gives you four choices for how to search. You can do so by media, which effectively searches the text and names of the images, by channel, by location or by users. None of these are anywhere near as good at Google image search for finding anything specific, but if you just want to find people who are interested in taking a type of picture you'd like to see then this can get you access to some interesting images and more importantly help you to find people you want to follow.
Browsing Pictures (3 out of 5)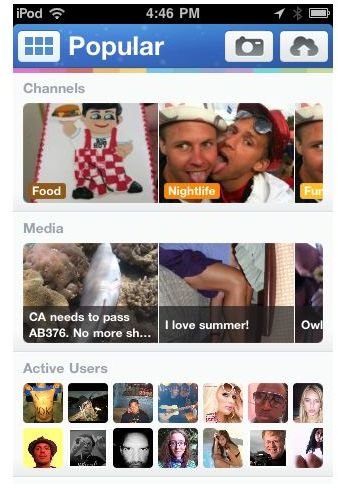 If you are new to Mobli one of the best choices available is to browse through images. This will help you find some interesting images to look at and get you on the way to finding people worth following. This lets you search both by categories, with the most popular images in those categories, or you simply look at the most popular overall pictures. The categories are broad enough that you'll find a lot of interesting pictures and the top photos are usually good, but neither option really knocks it out of the park.
Following People (4 out of 5)
The primary value of Mobli is the ability to follow people, categories and tags. This creates a feed of images for you. This means that once you have been using Mobli for a while you can easily log in and see what pictures your friends have taken without having to spend much time at all. If you can convince your friends and family to do this as well then this has some real advantages over other social networks because, in addition to the ease of adding comments, you can share images far more easily than on the others. This also explains a large amount of the seemingly random and uninteresting photos that can be found on Mobli – they could be interesting to the people that the person posting knows.
The Mobli Interface (4 out of 5)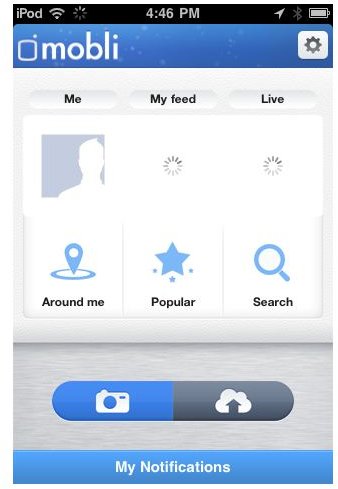 There are a lot of choices on Mobli and yet it manages to keep everything simple enough that it never becomes confusing. At any time you can choose almost any tag, category or image and find more images or look more carefully. The only real interface issue is that you can't zoom in on pictures from the main interface – you have to choose that picture as the only thing you're looking at first. With the small screen of the iPhone this forces you to navigate around the app far more than would otherwise be necessary, but as that isn't too difficult it is only a minor flaw.
Image Quality (3 out of 5)
Nearly every image on the Mobli app has been taken with the iPhone camera. This makes trying to judge image quality a bit difficult because the limitation is far more about the camera than the app, but if you're big into image resolution and quality this probably isn't the best app for you because there are a lot of low resolution images and there are other iPhone camera apps which tend to produce better looking images.
The Final Rating (4 out of 5)
This is a very well made app and if you can convince your friends to join and share photos or if you're looking to meet people who like photos you'll get a lot of value out of it. If all you want to do is look at pictures and don't really care about sharing them then there are better apps, but if you want feedback on your photos then this is going to be good. So, while this app is above average it simply isn't going to be for everyone and that stops it from becoming a five star app.
References
Source, author's own experience.
Images, iPhone screen capture.