Top 3 Postcard Apps for iPhone
Sending postcards has never been easier. These iPhone apps make it ridiculously easy to create and send a real postcard with the click of a button from your iPhone. The following apps will take your digital photo from your iPhone and print, stamp and mail it to the recipient of your choice.
Postagram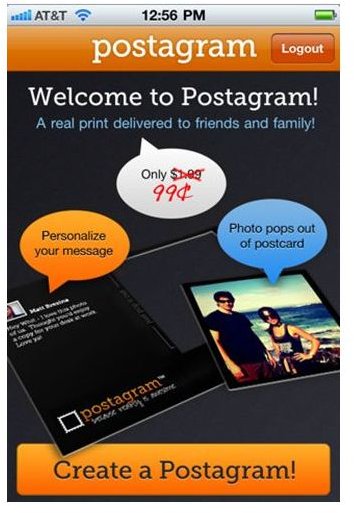 Postagram is one of the best postcard apps and it's free. It's simple to use and the updated interface is amazing. When you open the app you're prompted to select a photo from your album, Instagram or Facebook. Once you make your choice you move and scale your picture and personalize your message. Next you have to add a recipient and you will be brought to a preview of your postcard. On this page it tells you your total cost – 99 cents, and this is where you have to input your credit card information. Then you are ready to send off your postcard. Postagram uses thick glossy paper and your postcard is on a black background with white font.
One feature that I like is the ability to log in to your Instagram account to use those photos. Instagram is another app by the same company that allows you to transform your photos into works of art. Another great feature is the Facebook integration where you can log in and use those photos as well. My favorite thing about this postcard app is that when you receive your postcard the picture pops out as a 3 x3 photo so you can save it.
My biggest gripe? I would like to see a variation in backgrounds. I would at least like to be given the choice to choose my own color for the background.
Popcarte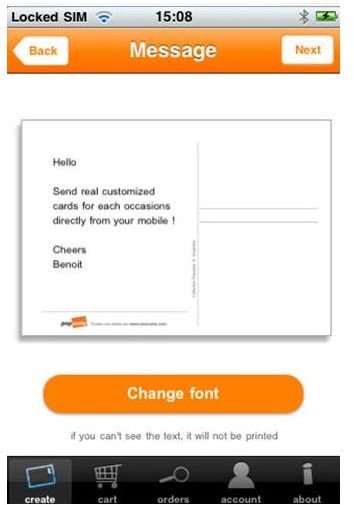 Popcarte is another free app that allows you to send a real postcard and they will print and mail it within 24 hours. In order to create a card you have to go through five steps.
1. Choose your card - You are given a list of categories such as, Father's day, Halloween, New Baby etc. then you choose a template from that list. Finally you select a picture from your album or take a picture. I like how they show you a preview of the card and you are able to change your photo or your theme.
2. Size - Next you choose your size. You are given the option to choose a 4 x 6 postcard for $1.99 or a 5 x 7 folded card for $3.49. It is nice to have the option to choose your size, not many companies give you that choice.
3. Message - Here you write your message. After you write your message it shows you a preview and gives you the option of changing your font, the color and the size of the font. Again, I love that they give you these options.
4. Signature - This part is my favorite feature. You get to sign your card using your fingertip! You have 6 color choices and 4 size options.
5. Recipient - Lastly is filling out where your card is going. You can choose from your address book or input out your information.
Bottom line is, it's a good app but it needs more themes and frames to choose from. Other than that, it's a free app and that makes it a winner in my eyes.
Simply Postcards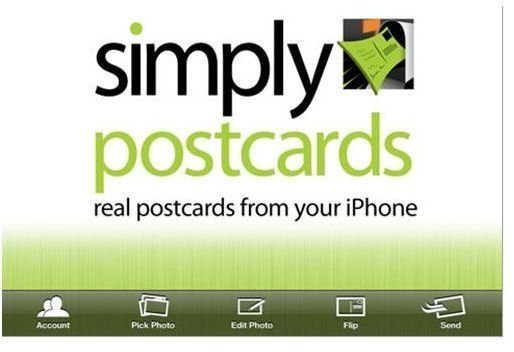 The name says it all. This is a simple app to use. To begin you first have to set up an account, the account is free and it only requires you to provide your email address and create a password. To create a postcard you choose a photo from your camera roll or take a photo. Once you have selected your photo you can edit it. In the editing phase you have the choice of adjusting the exposure, rotating the photo and adding a border. My favorite feature of this app is the option to add a border. I use this feature to create thank you postcards. Once you have edited your photo to your liking then you flip your photo over and add your message. When writing your message you have 8 choices of which font you would like to use and the choice of font size. Next is adding the recipient, which you can access from your contact list or enter manually. Then you preview your card and you're ready to hit send.
The only downside that I could find, is that like Popcarte, it does not have enough choices of frames to choose from. Other than that the postcard came within 3 days and looked just like I had intended it to.
Simply Postcards offers your first postcard for free so that you can test it out. After that, it costs from $1.00 to $1.99. Simply put, this is a great postcard app and it's free.
Overall Best iPhone Postcard App
Although I like all of the above postcard apps, my choice for best app would have to go to Postagram, for the simple reason that the photo pops out of the postcard. There have been many times I have thrown out postcards and now I can save the picture, I love that! I loved the sleek look of the interface as well as the actually postcard I received. I give Postagram 5 stars out of 5.
References