Cheap International Phone Calls on Your iPhone Using the VoxOx Callback App
What Does This App Do?
This iPhone app is callback software that saves your money by turning your outgoing calls into incoming. You just need to dial the number you're calling and then wait a few seconds. You will receive an incoming call with a message "Please wait while I connect you" and a few moments later your friend will appear on the line. The rates are as much as a few pennies for international calls. But this iPhone app has a lot more to offer – both free and paid services. Here are some of the more important features of the VoxOx app.
Free Number and Calls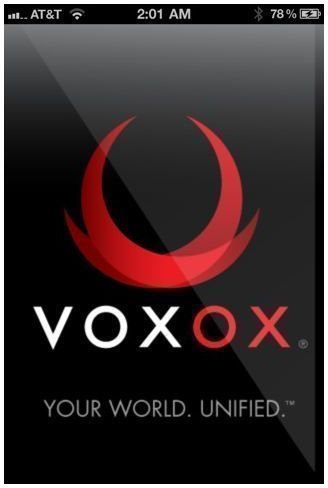 When you sign up for this service you get a free random number. You can also choose a custom phone number and even a local phone number, but these are paid services that cost $1.95 per month or $19.95 per year. This can come in handy when you want a local number for your business that is situated elsewhere. Also you get an iNum (stands for "international number") which is your global number for international calls.
When for example, your friend calls from one of the supported countries, he dials a local number and then enters your iNum. Your friend makes an international call but pays for a local call and you pay nothing. The VoxOx-to-VoxOx calls are free, and there is also the free option for video calls. There is desktop software that will enable you to make phone calls from your computer and to a friend's computer. There are options for free Conference VoxOx-to-VoxOx Calls for up to 20 users with additional features like call recording, call transfer and more.
Free Voicemail, Texts and Faxes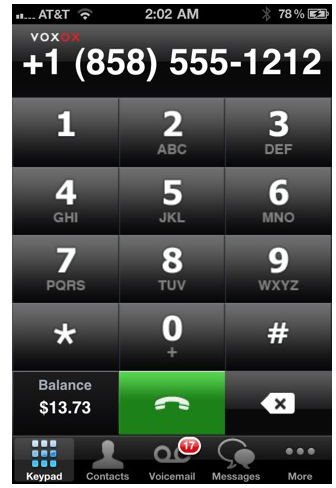 All inbound calls, faxes and texts are free. The voicemail service is also free. The greeting message is fully customizable. When you get a voicemail, you will receive a notification through SMS, email or both. Your email has an attachment file with the recording of the voicemail. You can check your voicemail by calling into your VoxOx service from any number or from the desktop software on your computer.
There is also another great feature called "Eavesdrop" which enables you to send the caller to voicemail when you receive a call and eavesdrop while the person is leaving a message. You can answer the call at any time if you want to. The fax feature works only with the free desktop software. You get a free 2-way fax enabled number, meaning that you can receive and send faxes at the same time over the Internet without the need for a fax machine or service subscription. It's free to receive a fax and you pay just a few pennies to send one.
Free Instant Messaging and Social Networking Features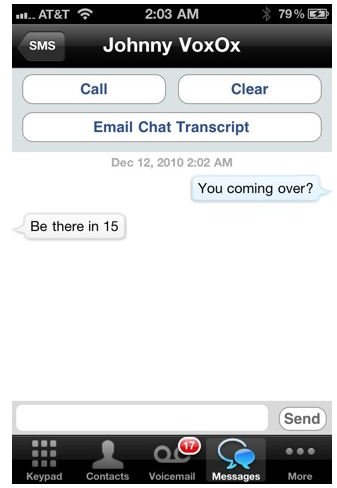 These features enable you to chat with your friends. There is built in support for Facebook, AIM, Windows Live, Google Talk, My Space IM, Skype, ICQ and other Internet messaging clients and social networks. All of the logging passwords are saved and the app automatically logs you in when you want to chat. The chat history is also saved and there is even a translator function that will help you chat in 50 different languages. This universal translator can also be used with email and SMS.
Sending Files
Sharing large files using your account is very easy. All you have to do is click on the sharing icon in the VoxOx messaging window and choose the file you want to share. The file will be uploaded and the service will create a short URL from where the file can be accessed and downloaded. You can send this link using email, chat or text to any of your contacts in the account. The size of the file is limited to 100 MB.
Should You Get This iPhone App?
This call back app promises and delivers cheaper calls. Maybe the biggest attribute of this app is the international calls and the free user-to-user calls. The other services also offer you another level of connectivity at low prices. The IM and social networks integration is also a nice touch, and the universal translator could prove to be a very useful tool.
The VoxOx Callback app for iPhone is a good solution for making calls without making a major impact on your phone bills. This service has support for many countries and the list is growing, which will make it one of the best choices for making and receiving international calls. All of the other features are a big plus to the overall positive impression of this app. It is recommended.
References
All images and information from the developer.