Don't Have the Time? Read it Later: An iPhone App Review
A Virtual Bookmark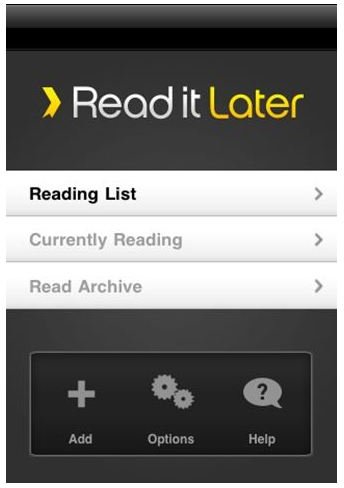 We have all experienced those times when you're surfing the web and you see an article you would like to read but you just don't have the time at that particular moment. This app makes it easier for you by providing you with the opportunity to save links and read them at a later date. Now you are able to read the news when you don't have service. With a sleek interface and easy navigation, Read It Later is by far the best offline reader around.
So how does it work? After you install the app successfully you can begin surfing the web through Safari. Once you come to a web page that you want to save in your reading list, you simply click the bookmark tab and save it under the Read It Later bookmark. Once you are ready to view the web page that you saved, you simply open the app and look under your reading list and you're ready to read.
A Reading List You Can Take Anywhere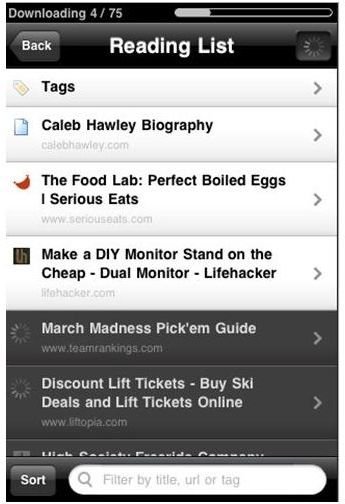 What's great about this app is that every time you save a web page it adds the page to your reading list. It also keeps track of where you left off on every web page that you save. When you open the app you can choose to access your reading list or what you are currently reading. If you choose currently reading, it will bring you back to the section of the article that you last left off at. If you choose reading list, it will provide you with a list of all of the web pages that you saved and can access offline.
This app also syncs to your computer. If you want to read web pages that you saved to your reading list from your iPhone on your home computer, all you have to do is log in to get started from your free account. I particularly like this feature because if I leave off in the middle of an article on my iPhone and want to finish it on my computer, it remembers the exact position where I stopped reading. I sometimes I find it hard to read the print from my iPhone and like using my home computer to read my saved articles. Although there is an option to toggle between the full web page and text only, there are times when I need to access web pages on my home computer.
Stay Organized with a List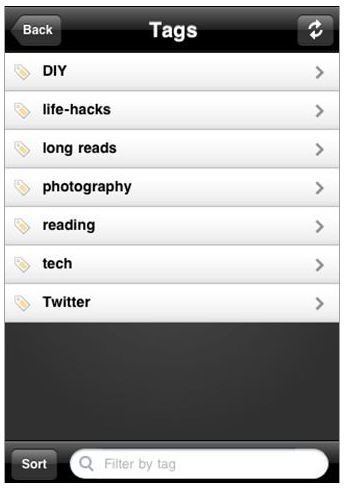 Creating tags makes it so easy to navigate through this app. To create a tag you simply choose a web page from your reading list, tap the title to get to the edit screen, and create a tag for that article. This is a nifty way to keep an organized list of your web pages. I use this feature like I would create a folder at home. I create tags such as vacation and bills and put my saved web pages into a category. By creating these tags it provides easy access to all of my saved web pages.
Overall Rating (4 out of 5)
Overall I give the Read It Later iPhone app 4 stars out of 5. The only reason I did not give it 5 stars is because it took me a few tries to install it. If they didn't offer the video that showed step by step instructions then I don't know how long it would have taken me. You have to open the Read It Later app in order for the app to show that you installed it correctly. They do not show that step on the home screen directions, only in the video. It was also a bit of a lengthy set up for a free app. Besides having to create a free account I wasn't expecting it to take so long. I also never use Safari, so now every time I want to save a web page I have to open it in Safari first, then I have to open the bookmark to save the page.
This is honestly one of my favorite apps, I use it all the time. Whenever I am on the road or a plane and can't get an Internet connection, I can access articles I have saved. This is a great way to get the content I want and enjoy it at a later time. For even more features you can download the Read It Later Pro paid version but the free app has enough to offer to satisfy most people.
Download Read It later (FREE)
Download Read It Later Pro (PAID)
References
All screenshots remain property of the developer.