BiteHunter iPhone App Review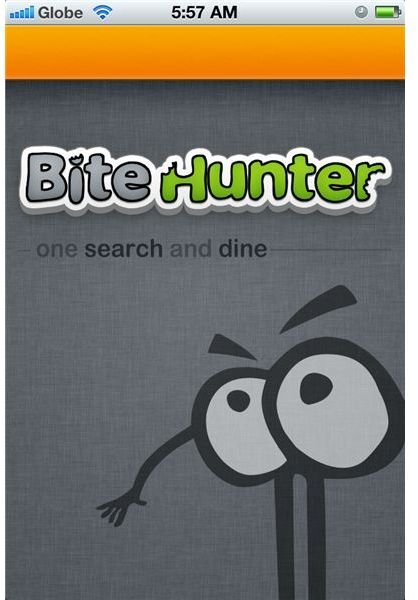 Online group deals are so hot right now. Most of these group deal sites offer various consumer goods that you can partake of - be it electronic gadgets, travel, home appliances, DIY stuff or, of course, food and dining. In fact, food and dining are perhaps the most covered by group deal sites. With the popularity of these group deal sites, it's not surprising that an iPhone app made specifically to search for and aggregate these deals should come out. Enter BiteHunter for iPhone - definitely one of the best and most useful apps for helping you find the best deals in dining around the U.S.
What is it?
First and foremost, BiteHunter is not a group deals site such as Groupon, LivingSocial and the others. It's a search engine and group deals aggregator. BiteHunter is a real-time search engine for finding group deals on dining. The app aggregates restaurant deals from thousands of sources - in real time. What you'll appreciate about this app is that it covers more ground than any other company in providing dining deals. By great dining deals, I mean those that will give you the best food and relaxation at the least expensive cost. How's that for being a useful iPhone app?
What does it do?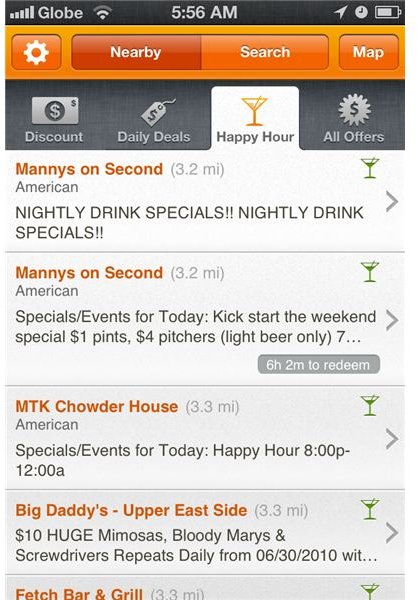 As a real-time search engine for dining deals, BiteHunter has several great features. Obviously, it allows you to locate restaurants nearby that are currently offering daily deals, discounts, happy hours, lunch and dinner specials and more. It gives you access to more than 50,000 local dining deals around the U.S. You'll be glad to know that BiteHunter considers individual deals transmitted through Twitter by restaurants. This is in combination with daily deals posted on group deal sites including Groupon, LivingSocial and others.
The first time you fire up the app, you'll be given an option to display deals on a map or by list. The app also classifies deals by type such as by percentage discount, by the actual amount of discount, by happy hour or fixed price menu.
The app also has a robust search engine service that lets you search for specific restaurants, cuisine, neighborhood or type of deal. Search results are pretty accurate too.
Another nice feature of the app that you will surely like is the fact that once you've found a specific deal, you can display it together with other related deals so you can easily check out those deals and verify whether the main search result is really better than the related results. The search results page for specific deals also includes reviews from multiple sources, a menu and a table reservation option. You'll also appreciate the star-rating scheme employed by the app which is displayed on the search results page. This allows you to quickly find out whether you should bother checking out the deal and read reviews for it - or simply ignore the deal.
Of course, like other location-based apps, the app takes note of your current location and gives you search results for deals on restaurants nearby. The app also lets you share deals you find with your friends and family through Facebook and Twitter. This feature is, of course, customary to most iPhone apps of this type so it's really not surprising to have it.
Is the app really useful?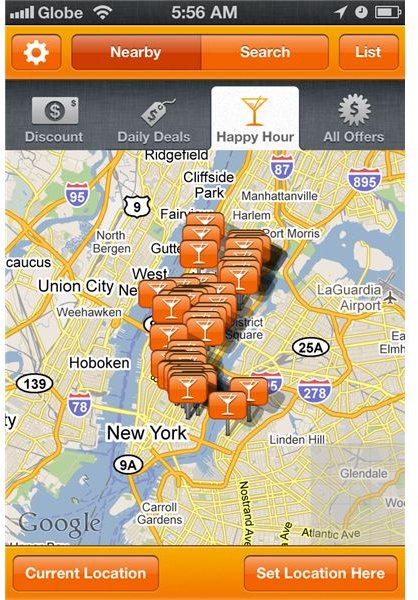 Yes, BiteHunter is a pretty useful app. Not only that, it's a great money-saver app as well. While scouring through the different deals provided by the app I found a number of really good deals offering the best discounts possible. I wish I could try them out myself. For travellers, this app will be a life-saver, providing you with the best restaurants to dine at in a particular place. For office workers, the app is also heaven-sent since you can really find great lunch deals near your office.
You'll also appreciate the app's refreshing interface. The use of orange for the overall theme of the site kind of lifts you up and entices you to use the app often. The map display is equally beautiful as well.
True enough, if you're looking for a nice deal finder for dining and restaurants, you should consider BiteHunter as your top choice. Try other similar apps and you'll find that this app is as good, if not better.
The best things in life are free - including BiteHunter for iPhone. And you can download it now from the iTunes App Store without spending any precious cash.
And I only have one wish for future updates to this app - hopefully, BiteHunter will start to cover international deals as well.
References
Image credit: Screenshots provided by the author.fv l,m,