Improve Your Driving Habits with the Driver Feedback App
The Need for Speed
So how does this app work? State Farm's new driver feedback app taps into your iPhone's accelerometer and uses your GPS to determine how safely you are driving. It measures three distinct behaviors, acceleration, braking and how well you turn the corner. After much research State Farm choose these three driving behaviors because, according to the National Highway Traffic and Safety Administration, these are the top three driving risks that are responsible for causing car accidents.
If you are worried that using this app will affect your current insurance rates don't worry because State Farm has said they do not collect any data and it will not affect your insurance rate.
To begin using the app you first have to place your iPhone on a flat surface and make sure it is facing the front of your car. The first time I tried this, it did not record because it had to calibrate and my phone wasn't in the correct position. Then you press the red record trip button and drive. When you want to end your trip you press stop. It's an extremely easy app to use.
See How You Score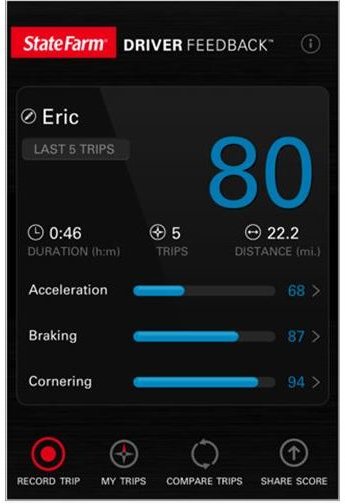 Once your trip is recorded it is now time to get your results. The driver feedback app gives you an overall score for how well you drove and an individual score that looks at your acceleration, braking and cornering. For one of the trips I recorded I received an 86 with no alerts and it said great driving. While another trip I recorded showed my overall score as a 75 and it alerted me on my braking and cornering. The scoring feature is a great concept because it gives you a numerical score to see how well you drove. Then it breaks that score down to offer you specific details on how you can improve.
Share and Compare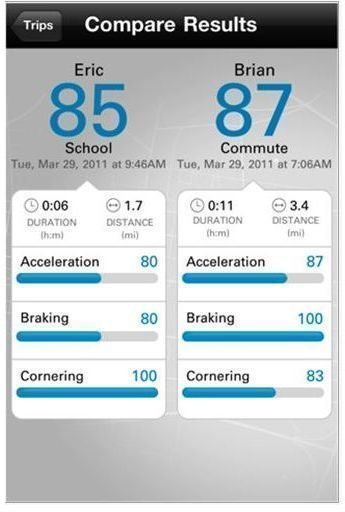 Not only can you compare two trips against each other, but you can also compare results with multiple drivers and share your results via email or text. If you are comparing one trip against another you will see how well you brake and take turns and if you are driving too fast. I used this function to help me improve my driving. I found out that I always take a left turn on Shawnee Road too fast and hard. Now that I am aware of this issue I can correct it.
Comparing your results with other drivers is another interesting feature. You can have two different drivers and compare how well you drove. This feature would work great if you compared the same route or used it to show your teenage child how they were driving compared to you.
This is one of my favorite features because it allows me to compare my driving to my husband's and show him that I really am a good driver. It's fun to compete with him and I can text or email him the results.
Map your Trip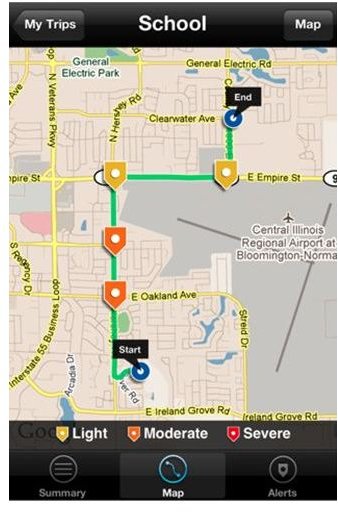 In addition to scoring, comparing and sharing, the app also shows you a map of where you are having specific driving issues. It shows you alerts and pinpoints if your driving was light, moderate or severe. I received a moderate alert for my left turn. When I clicked on cornering it told me that I needed to take it easy and slow down at a particular corner that it showed on the map. This feature of the app offers you a visual insight to where, specifically, you are making mistakes in your driving.
How Does it Rank? (4 out of 5)
I give State Farm Insurance's Driver Feedback application 4 stars out of 5 for the overall concept of the app. This free app can be very helpful in monitoring and learning to improve your driving. I use the map feature to help me pinpoint specific areas that I need improvement in. The compare and contrast feature is also extremely helpful for seeing how I drive over time.
Is this an accurate measure of how well I am driving? By using your iPhone's accelerator and GPS I think it gives you a close enough measure to help you determine how well you are driving. This app is a useful way to offer drivers feedback and evaluate their driving while providing useful tips to help reduce car accidents. Think of this app as the constructive criticism you get from a "back seat driver" like your mother. Like a safe driver…State Farm is there.
Download the Driver Feedback App (FREE)
References
All screenshots remain property of the respective developers.