Free iPhone Bluetooth with Celeste
One of the most wanted features on iOS is the ability to freely use Bluetooth to transfer any kind of data between different devices. In a standard situation, your iPhone will have closed Bluetooth, only being able to communicate with other iOS devices for multiplayer gaming or sharing limited types of files (always requiring a third-party app).
Thanks to the power of the jailbreak, and to an application called Celeste, you will now be able to free the Bluetooth of your device and use it for any purpose.
Requirements
To be able to use Celeste, you will have to first jailbreak your iPhone. To complete this process read the jailbreak guide (the process is similar with older iOS versions).
After completing the jailbreak process, go on the Search tab in Cydia and look for Celeste. This app will cost you $9.99, but I can assure you that the price is totally worth paying.
How Does Celeste Work?
Once you have downloaded the app, you will be ready to share almost every file that is on your iPhone with other Bluetooth enabled devices.
The application will seamlessly integrate itself inside the OS, so it's able to work with many standard applications (iPod, Photo) as well as other third-party apps (Dropbox). After you have installed Celeste you will be able to send and receive songs, pictures and documents even from non-iOS devices.
For example, to send a song, just tap and hold on one title to reveal a new menu that will give you the choice to send the item over Bluetooth as you can see from the screenshots below.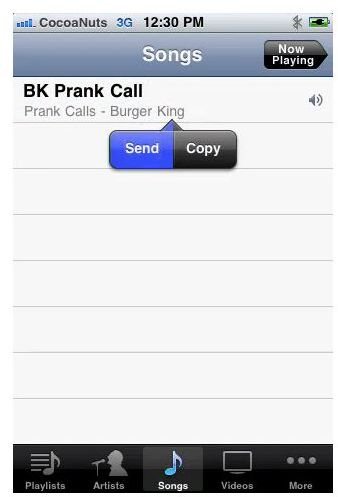 The same easy process will happen when you receive a file from someone. A pop up screen will tell you that your friend want to send you a file, giving you the option to accept or decline it. When accepted you will see the transfer completion progress on screen and when it's complete you will find the item in the corresponding app on your iPhone.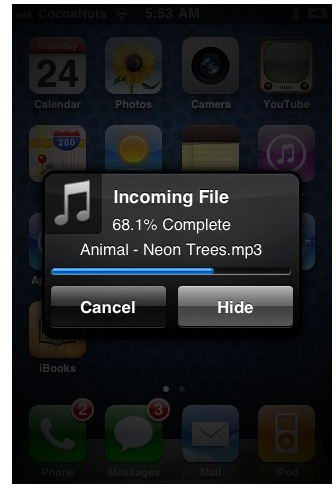 So, if you have received a song you will find it in the iPod app, while if it's a picture, you will find it inside the Photo app.
Bluetooth Revolution
Celeste could easily be considered as a revolutionary app in the jailbreak community. It's powerful and easy to use and will allow you to really use your iPhone at 100% of its capabilities.
Nowadays the jailbreak process is really stable, so you don't have to worry about any possible side effects of installing this app on your iPhone.
The only downside could be the price: $9.99 for a Cydia app could seem too much, but if you are an avid Bluetooth user, after a while the price will be totally worth it.
References
All screenshots from https://getceleste.com.