TrapCall for iPhone: Block Unwanted Calls and Unveil Masked Calls
Did you ever wonder who is calling when you receive a masked call? Do you want to blacklist a number that is continuing to annoy you? Well, there's an app for that! With TrapCall for iPhone you won't have to worry again about masked or unwanted incoming calls.
How This Service Works
First of all you need a paid account which you can get over at the TrapCall website. There are three different plans you can chose from, as shown in the image below.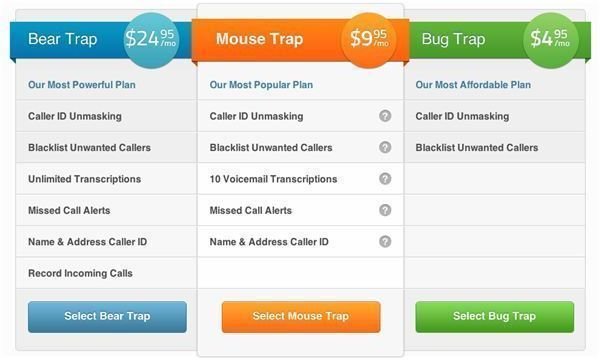 The available plans are:
Bug Trap: $4.95 per month.
Mouse Trap: $9.95 per month.
Bear Trap: $24.95 per month.
If you choose the cheaper plan you will enjoy unlimited caller ID unmasking and the possibility to blacklist unwanted callers. Of course, choosing a more expensive plan will reward you with more advanced features, but for the basic purposes of this app you can choose the first plan and you will be ok.
How It Works on the iPhone
If you've gone through the sign up process via the link above then you've covered the setup for the server side of the house. Now it's time to see how the service works on the iPhone. First of all, go over to the AppStore and download the TrapCall app [Download Link].
The app itself will allow you to save a list of the recent incoming calls that you have unmasked, to manage your blacklist, hear your VoiceMail and manage general settings.
The real power of this app is revealed during a phone call. Be sure to have the TrapCall app active in the background. When you receive a masked call, simply press twice on the power button and you will immediately see the number details on screen.
As you can see, the use of this app is quite simple and it will be of great benefit to you if you normally receive a lot of masked or unwanted calls.
Carrier's Compatibility
As expressed on the company website, this service works with almost every US carrier. The service is certified to work on AT&T, Verizon, T-Mobile and Sprint. The unsupported carriers are: metroPCS, U.S. Cellular, Boost Mobile and Alltel. There is no word by developers about a future implementation of these last four carriers. Anyway, supporting the four majors, there is a high probability that the service will work for you.
How Useful Is It?
The service offered by TrapCall, is quite innovative in its way, and for sure will come in hand for many users in the US. As of today there is no word about a possible expansion overseas to enter the European market. Though I think it could be quite a success in the Old World too.
The only downside I see here is the price. The app itself is free, but then you're obliged to subscribe to one of the plans offered. Also, even if you choose the cheapest plan, it's still $4.95 per month and that is quite a large amount to pay out over a year. However, if you have a lot of problem calls it could be well worth the money for you.
References