Freespeech iPhone App Review: Free Texting and Group Messaging
The fact that texting costs anything on modern phones is a bit absurd when you consider that it takes thousands of texts to use the same bandwidth as a thirty second video. This means that for someone who texts a lot finding alternatives is worthwhile. Freespeech is a new free iPhone app that offers free text messaging and free group messages. This makes the question not if downloading Freespeech is worthwhile, but if convincing your friends to use it is worth the effort, because like with most of the texting apps both phones have to be using the program.
Simple Texting (5 out of 5)
Freespeech is a texting app that understands the value of a very simple texting program. In order to send a message once someone is on Freespeech you just put in their name and then begin to type the message. The major innovation is group chat which sets up a text messaging style chat room which you can invite people into allowing multiple people to converse at once, but keeping the same simple style.
App Setup (4 out of 5)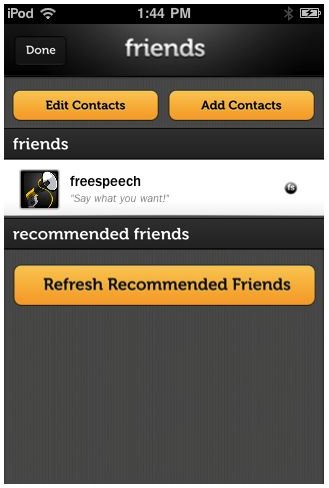 Signing up on Freespeech is very easy. The program asks only for a name, mobile phone number and an e-mail and doesn't even bother with the e-mail confirmation. Even the name is easy and you can change it any time you want, so no need to come up with some elaborate version of your name that no one has chosen yet.
Finding your friends is a bit more difficult though. Since they will need to use Freespeech the odds are very high that you will not have any. Still it will look through your contact list so if anyone does have it that will be easy. Otherwise you're going to have to convince them to use this app in order to message them, but since signing up is easy that shouldn't be a huge problem.
App Interface (3 out of 5)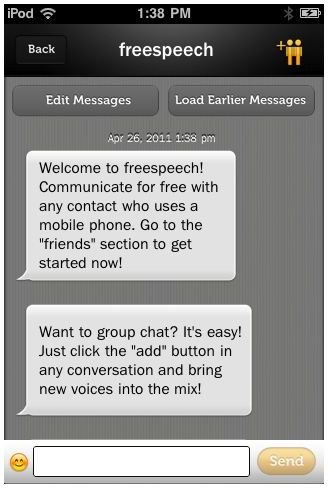 There is not a lot to the interface of Freespeech because it is so simple. In most places there is a small button in the top right hand corner which allows you to easily create a new message. Simply touch the button then choose the person from your list who you want to send a message to and begin to type. Beyond that the only real options are finding new friends from the friends list and altering your profile. Both of these are on the bottom of the screen whenever you are at the home screen and using both of them is very easy as well.
Conclusion (4 out of 5)
This app has less options and frills than most of the other free text messaging apps and in many ways that is the value of it. If all you want to do is send text messages between friends then avoiding too many other options can save you a considerable amount of time and effort, as well as making it a smaller app which is easier to convince your friends to use. On the other hand if you want to send images, audio or have any of the other bells and whistles there are other free apps which can do that better than Freespeech.
References
Source, author's own experience.
Images, screenshots from Freespeech on iPhone.