Photosynth iPhone App Lets You Capture Panoramic Photos
What is it?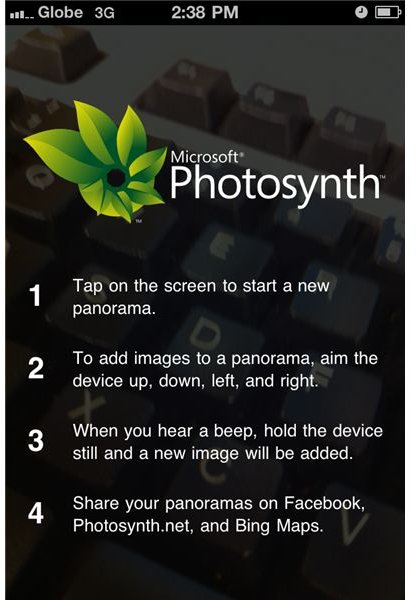 In brief, Photosynth is a nice photography app that allows you to capture several photos that can be stitched together by the app to create a panoramic photo. The point for doing so, aside from satisfying your personal photography lust, is to let you share the photos with others - very much like what Instagram, Camera+, and other photography related apps allow you to do, except that this time you are sharing panoramic shots.
Features and Functionality (4 out of 5)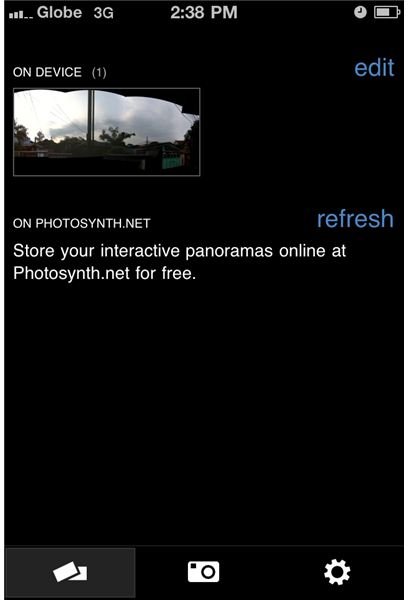 Using the app is a breeze. Tap on the iPhone screen to start capturing a photo and then move your iPhone from left to right, up or down - and the app will automatically capture photos in a series. Once done, you simply click on the finish button and the app will stitch your photos together.
Panoramic photos that you have produced are automatically saved on your iPhone. But if you don't want to burden your device's storage too much, you can upload your panoramic photos to Microsoft's Photosynth.net cloud server. The site requires a Microsoft Live account, so get one now so you can store your photos on the server. Of course, the app also lets you share your panoramic photos on Facebook or publish them to Bing Maps. Publishing your photos to Bing Maps means they will be published on the Bing Search home page, together with other photos that were randomly featured on the site. I'm not particularly sure of what the chances are that your panomic photos will be featured there, but eventually, they should get there.
Our Verdict (4 out of 5)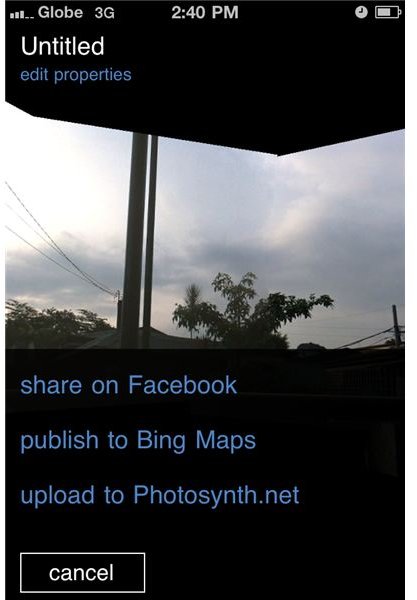 Technically Photosynth is a pretty well-made iPhone photography app. Its interface and the overall process of stitching photos together to create the panorama works fast and you can immediately preview your photo in a snap. If you're satisfied with your shot, the app allows you to quickly share it on Facebook. The Bing submission feature is also cool. Just make sure that you take interesting photos so that the Microsoft Bing people will notice them and feature them right away on the Bing home page.
While I appreciate Microsoft's decision to come out with a simple app with a distinguising feature, how I wish that they would have extended the features of Photosynth further. We could all use some photo filtering and photo enhancement functionality as well, aside from the "stitching of photos."
Although, Photosynth is not alone as this type of iPhone photography app, still, it's a worthy endeavor for an iPhone app. Give it a try and tell us via a comment whether you like the app or not. You might also want to check out similar apps such as AutoStitch and 360 Panorama to find out which app is the best.
References