Rockmelt for iPhone Syncs Well with Rockmelt Browser
Rockmelt iPhone Web Browser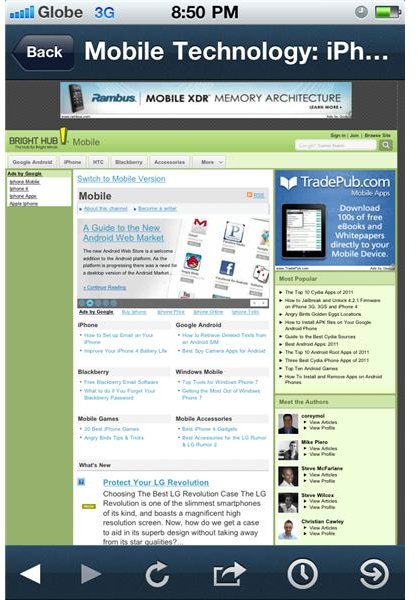 First things first - Rockmelt is a web browser and Rockmelt for iPhone is a mobile web browser. As such, the app should let you browse the web freely in many ways like a traditional web browser does, right? But Rockmelt for iPhone is taking the mobile web browser in a different direction. Specifically towards becoming a social one. For that, it puts emphasis on your online world - updates from your Facebook and Twitter accounts, because those two are practically everyone's online world. Throw in stuff you save and read on a regular basis and you have the foundation of Rockmelt as a mobile web browser. To make things a bit more exciting and innovative - your Rockmelt activities on your iPhone get synchronized with the ones on your desktop browser. What a very productivity-enhancing feature, right? Those are the things that make Rockmelt an exciting new iPhone web browser. But are the features and functionality truly worthy of the accolades?
Features and Functionality (4 out of 5)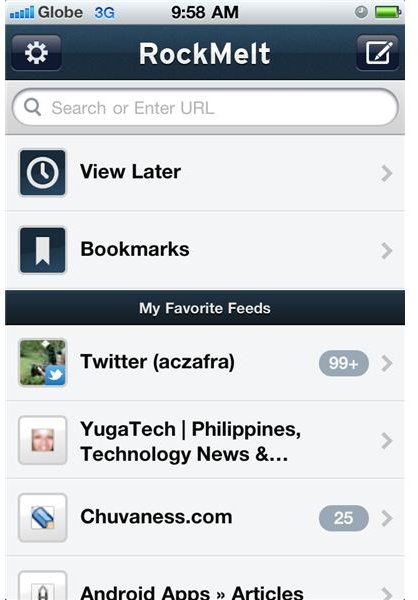 If you've used the desktop version before, you probably know the drill by now. If not, let me remind you that logging in to Rockmelt using your Facebook credentials is a must. In fact, the use of Rockmelt rests on connecting your Facebook account with it. Once you've connected your Facebook account - that's it. You're good to go. You'll receive updates from your Facebook feeds and notifications and you can access links shared to you on your Facebook account.
But wait, it doesn't stop there. You can also add your Twitter account to get the same updates from your timeline. If you have favorite sites or blogs that you read on a regular basis, you can add them to your Rockmelt feeds as well. There are also default sites which are suggested by the Rockmelt folks. These sites are blogs, generally the major, popular ones. You may or may not add them to your Rockmelt favorites.
That's it? Are those the only things Rockmelt can do - a bookmarking app, news aggregator app? Certainly not. There are few more things that you can do with Rockmelt.
Try entering a keyword in the search box to explore the web. Once you've found something interesting, you can flag it for reading later. The next time you open the iPhone app, you can check out these items and read them. Or if you have Rockmelt on your desktop and you're doing your daily web browsing chores, try saving some stuff for reading later. Then the next time you fire up the Rockmelt iPhone app, you'll see the stuff you've marked for reading. That's it. No complicated setups. Simple, with cloud syncing done the Rockmelt way.
Verdict (4 out of 5)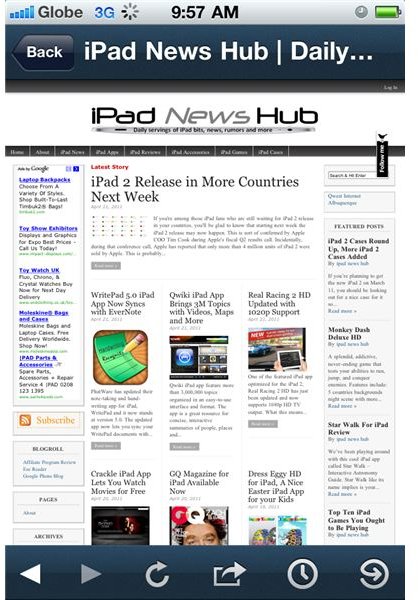 Rockmelt for iPhone is getting mixed reactions from those who've downloaded the app. Some say that it's innovative while others question its merit as a mobile web browser. I say - take it as both. For a mobile web browser, Rockmelt for iPhone innovates by being different from the rest of the mobile web browser crowd. Its integration with Facebook and Twitter and old RSS feeds and delivering updates from various websites make Rockmelt for iPhone worth at least giving a try. Who knows? You might find it useful for your own needs.
References