Elkhart Truth iPhone App Review - News and Information from Elkhart, Indiana
The Elkhart Truth
The Elkhart Truth is the local newspaper for Elkhart, Indiana. Elkhart is located in the northern part of the state where it runs into Lake Michigan and is a short distance from Chicago. According to the Wikipedia, this paper has been published for more than 120 years. The Truth is owned by Federated Media, which also operates radio stations in that area, and their site states that the Truth is read by more than half a million people every week. While they also maintain a website at eTruth.com, there is also this free Elkhart Truth iPhone app that helps organize news stories and media for Apple iPhone users.
Features (4 out of 5)
When you want information from a news source, you are typically looking for current stories and any associated photos and video to back that story up. This app lets you press a large button to view the current news items, photos from around the area which often include candid shots, and videos that go along with stories. There aren't as many videos as you might expect since this is a newspaper and not a news TV station, but there are some good 'on the scene' type videos, such as interviews with firemen after they've finished dealing with a help call. I didn't notice a classified ads section anywhere within the app, and that seems like it would be a solid feature.
This app was built using PageSuite, which is a digital publishing module that is used for a great many publications that have apps in the iTunes app store. It allows for user comments on news stories, photo uploads, and more. You can also save articles for future reference, which makes it a nice offline reader. Because the app is free, it is ad-driven, but the ads just appear in a thin bar across the bottom of the screen and are not obtrusive in any way.
Performance (4 out of 5)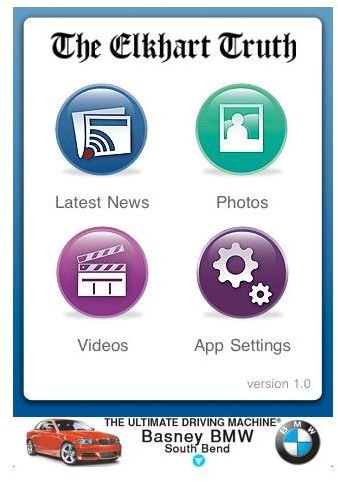 When you first open the app, you get a simple menu with News, Photos, Videos, and App Settings. It's easy to use and reading the news stories functions a lot like reading e-mails. I did notice that the ad feeds tend to load before anything else on the screen, and it makes me wonder if this is a deliberate 'feature'.
This app ties into the web to update its content, so you will need an active Internet connection when you check for updates. If you are going outside of your coverage area, you could use the app to save any news info you may need to reference offline, which is nice. On the plus side, the app itself is very small, but that does mean you have to wait a few seconds for photos and video to load. Of the multimedia that I viewed within the app, the quality was decent. Some of the audio on the video clips was raw, like one story that was recorded outdoors with a basic camcorder and there was a lot of wind noise.
Overall (4 out of 5)
While this Elkhart Truth iPhone app has limited appeal to anyone not from the Elkhart, Indiana, the format of the app is something to be appreciated. Any news source, from local newspapers to TV stations or even government agencies, should consider mimicking this sort of format. It nicely compiles everything into categories that make for easy browsing and reference, and it's all driven by a simple front-end menu.
Elkhart Truth app @ iTunes - [Download link]
References