Momento iPhone App Review
Momento iPhone App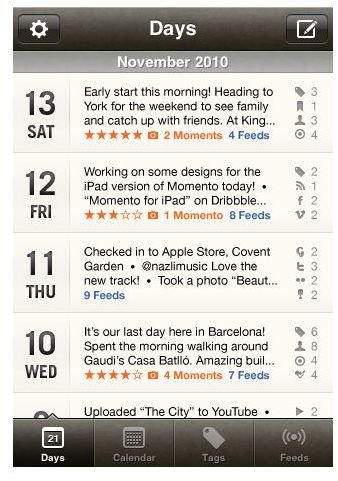 Momento is a journaling app for iPhone that gives you a platform to keep track of special moments in your life. The app records the date and time of each entry, allowing you to journal daily or add an entry to record an event or moment. You are able to add tags to your entries, making it easier to find similar posts. Momento also allows you to add your location and photos to each entry. In addition, you are able to connect to RSS feeds that you have online and view them through Momento's app. Is this journal app worth your money? I tested it out and will share my thoughts with you. Keep reading for a review of the features and functionality of the app.
Momento iPhone App (Link to Download) - $2.99
Features (4 out of 5)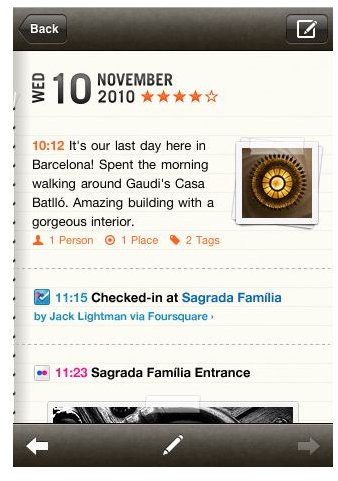 I don't know what I was expecting when I tried out Momento, but the app came equipped with more features than I thought it would. I guess I expected a glorified recreation of Notes. Instead I found an app that is somewhat reminiscent of a blog/journal hybrid with a dash of social networking. The Momento iPhone app allows you to create a journal entry about anything you want. But it doesn't stop there. Rate your day or the moment with 0-5 stars. You are also able to tag contacts that were there with you, tag the place that you were at, tag an event, add photos and tag the post with keywords. When you create a new entry the date and time stamp is added automatically. Creating entries for moments or events in the past is also possible using the calendar within the app.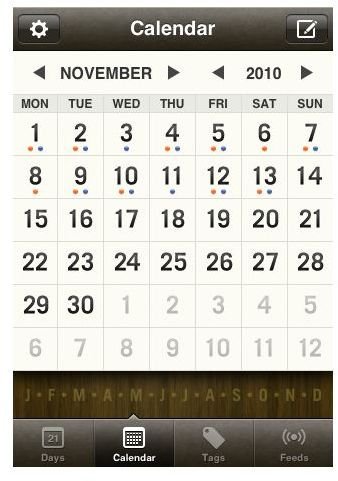 The only room for improvement that I could think of when it comes to features is the appearance of the app. Momento isn't dismal in appearance by any means, the interface is actually ok. But it's not stunning either. Plain is the best description that I could think of to describe Momento's home page. An upgrade to their graphics could really make this a five star app.
Functionality (5 out of 5)
For the few weeks that I tried out the app I experienced no technical difficulties. The app is easy to navigate and simple to figure out how to use. It took me under two minutes to figure out what I was doing the first time I tried it out. Momento was thoughtfully designed to make journaling quick and easy. It's even easy to bring your journal up to speed using a blog or social networking site, such as Facebook. You can upload your prior posts using the feeds option of the app. Everything seems to be about convenience with the Momento iPhone app.
Overall (4 out of 5)
I like Momento and would recommend it to anyone looking for a quick way to keep a journal. I don't have the greatest memory, so it's also helpful to quickly jot down a moment as it happens so that I don't forget about it later. The price for the app isn't unreasonable and it has a lot to offer. If you want some more information, you can check the link to their iTunes page below.
Momento iPhone App (Link to Download) - $2.99
References