Your Rooster iPhone Alarm Clock App Review
What is Your Rooster?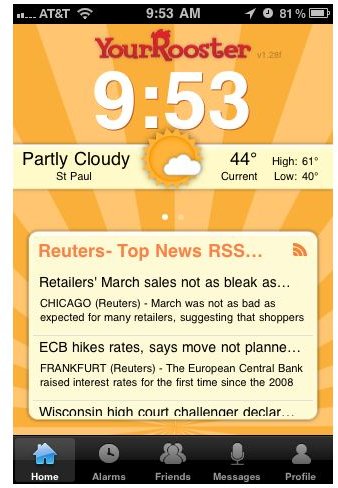 Your Rooster is an alarm clock app for iPhone that features the sound of a rooster crowing to wake you up. In addition, when you open the app to its home page, the current weather and top news stories are featured. Your Rooster also incorporates a little bit of social networking into the app with the ability to add "friends" to your network and send messages. There are a lot of features packed in to this alarm app, but is Your Rooster worth downloading? I tried it out for several weeks and I'm going to weigh in. Keep reading for more information about my experiences and whether I would recommend this app or not.
Your Rooster Alarm Clock (Download Link) - Free Version
Features (4 out of 5)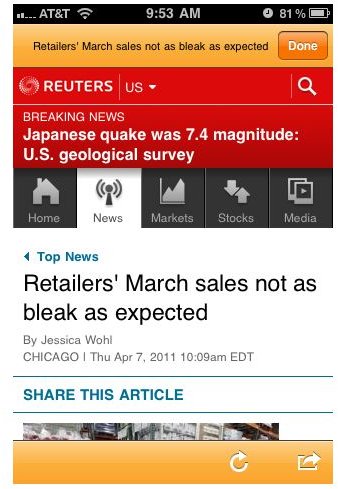 Your Rooster Alarm Clock is an iPhone app that puts a different kind of spin on your alarm. I love that you get a summary of the weather and a top news story feed when you open the app. The app uses your location to automatically update the weather and news. I found myself opening the app throughout the day so I could check them together without having to open several different apps.
Personally, I didn't get in to the social networking portion of the app because I didn't really see a point. I suppose it could be useful if you have friends that also use Your Rooster, but I didn't find any use in the "Friend" and "Messages" features of the app. That's not to say that others won't, but I sure don't see the benefit.
Alarm Clock (5 out of 5)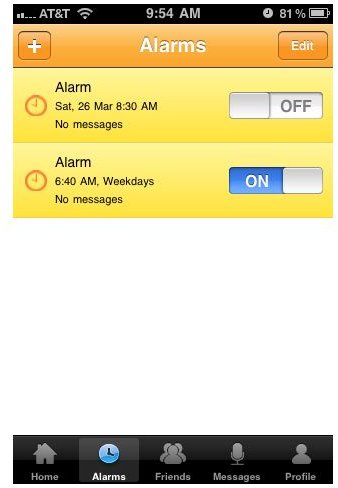 While the other features of Your Rooster are a plus, it is an alarm clock app and that is what's most important. Fortunately, they nailed the alarm clock within the app. I am a heavy sleeper who habitually hits snooze or turns off the alarm without any recollection of doing so. Not with Your Rooster Alarm Clock. The sound of the crowing rooster is absolutely awful; and it's perfect for waking up a hard sleeper. The sound is so annoying that it woke me up every time. Even if I hit snooze, I remembered doing so and it was easier to wake up the next time the rooster sounded off. After using this app I am sure glad that I don't live on a farm, but I am happy that someone had the forethought to use the rooster sound as an alarm tone. There are four other alarm sounds to choose from on the free version of Your Rooster if you don't want the rooster and even more if you pay for the app upgrade.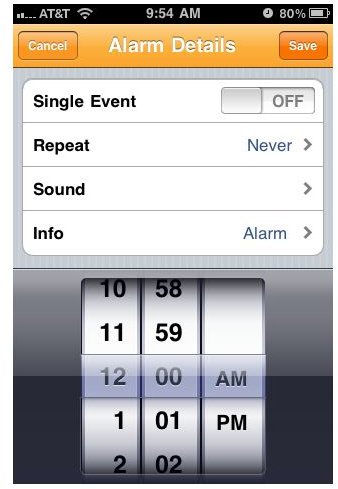 In addition, setting the alarm is simple and works in a very similar way to the standard iPhone alarm clock. You are able to set multiple alarms at a time and turn them on or off at your will. The free version of Your Rooster Alarm Clock is limited to setting 3 alarms at a time.
Price (5 out of 5)
As for the price, you can't get any better than free. I used the free version of the app to test it out and did not find myself very limited in functionality. There are several perks to paying $1.99 to upgrade to Your Rooster Premium. With an upgrade you are able to:
Set an unlimited number of alarms.
Add and customize the RSS feeds.
Record longer messages.
Choose from more alarm tones.
Overall (5 out of 5)
Your Rooster Alarm Clock app for iPhone quickly became my favorite alarm app for iPhone. I highly recommend that you try it if you're looking for a new and better alarm clock. For a free app, it's packed with great features and isn't just another typical alarm. Even the upgrade price of $1.99 is reasonable.
References