iPhone App Review: Apptitude
Apptitude iPhone App Review
If there is one major flaw with the iPhone it is iTunes and the App Store. On Windows specifically, iTunes simply is not fun or easy to use and discovering good apps requires you to already know what they are, or simply to try things until you get lucky. Apptitude attempts to solve that problem by allowing you to see what apps your Facebook friends use.
Apptitude: What it Does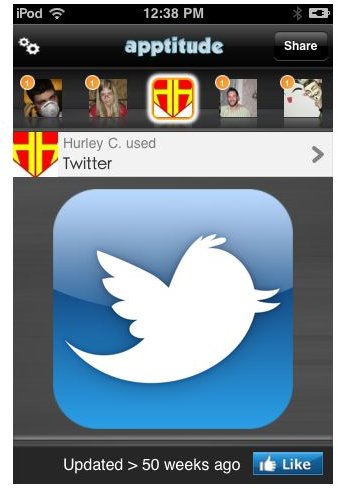 When you start Apptitude it immediately asks you to sign into Facebook. This may limit a few, but is nice because it gives the app value without you having to convince friends to do something new. Once connected to Facebook it will give you list of apps that people on Facebook are using. These are a combination of actual apps which connect to Facebook, such as Twitter, and Facebook apps which have an iPhone equivalent such as Family Feud.
In either case if you click on the app it will tell you the price and give you the option of downloading it from the iTunes library. This is generally quick and easy, though like all apps you have to leave it in order to download other apps.
Apptitude: User Interface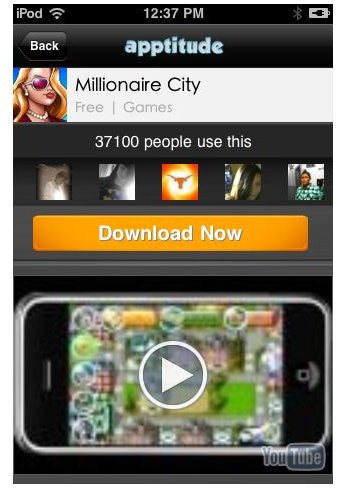 Once you have signed in on Facebook this app is very easy to use. It shows you a list of apps based on everyone in your friends list, which you can slide through easily or it allows you to look at individual friends and the apps which they like. Once you see an app it is very easy to click through and buy it if you want. This is a simple, clean interface that lets you do exactly what you want.
Apptitude: Flaws
Like all social apps this app is limited by your social connections. That is to say that if you have a very small Facebook footprint you are not going to find a lot of value in this. It's also worth considering that if your Facebook contacts are not active with this app then the list of app suggestions you are going to get is likely to remain largely the same, unless your friends are using a lot of Facebook games.
Apptitude: Conclusion (3 out of 5)
This is an interesting app and one that has the potential to allow you to find some great apps and learn what your friends like, helping you to find other social apps which could be very useful. The problem is that once you have looked through the list of apps once you're unlikely to get much value out of using this more regularly, so try it once, find some new apps, then don't check it again for a few months until your friends have tried some new games on Facebook.
(Cost: Free) [Download Apptitude]
References
Source, Author's own experience.
Images, Screenshots from Apptitude for the iPhone.