Review of American Express iPhone App
Introduction to the American Express iPhone App
There are few apps more important to look at carefully, than those which control your money. The need for them to be secure, safe, useful and easy to use cannot be overstated, because, without all of those, a website is going to be a better choice than an app, even on a mobile. American Express is a company that should be able to handle the security, but does that ensure they can make an app which is useful and easy to use?
Overview
The basic layout of the American Express iPhone app is similar to that of any mobile webpage. It gives you the option of whether you want to remember the password when you log in, as well as the ability to access gift cards easily. More unique is the entertainment section, which lets you buy tickets for entertainment events and can occasionally get you better seats and often reward points. All of these are easy and quick to get to.
The real value of this app, is the ability to check your card's recent activity, pay bills and manage your card in other basic ways that you could on the website. In fact, in large part, the app's similarity to the website is its biggest problem. If you use Safari you will have access to most of the same information, but the app needs to make it harder for someone who finds or steals your iPhone, to find the login page for your credit cards.
Functionality (2 out of 5)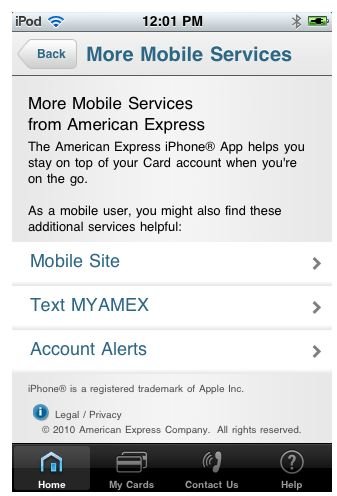 Although it has been improved, there have been a number of bugs that bring into question the value and safety of this app. An issue with the date, made many of the bill paying functions impossible to use; it shows a very limited number of your most recent transactions and doesn't have symbols or room for a long password in an app that needs to be a secure app on your iPhone. It also limits use to inside the USA, while the webpage allows access from anywhere. All of these combine into a less than satisfying experience.
Interface (3 out of 5)
The design for the American Express iPhone app's interface is functional, but completely uninspired. You can get to any part of the app reasonably quickly, but the interface has no advantage over a basic website layout, except for the buttons at the bottom of the screen. None of this is enough to make using the app truly superior to a website experience.
Conclusion (2 out of 5)
Although there is nothing truly flawed in the American Express iPhone app, there is nothing exceptional about it either, and with the combination of increased security vulnerabilities anytime you use an app, the bugs and flaws of this app and the limited functionality, this is, in most cases, an app that should be skipped. But, for heavy users there is no real harm in at least trying it, simply leave the password memory off.
Reference
Source: Author's Own Experience
iTunes, https://itunes.apple.com/us/app/american-express/id362348516?mt=8
Images, iPhone Screencaptures