106 & Park iPhone App Review
About 106 & Park iPhone App
Television channel BET, hit show 106 & Park now has an app. It is designed for users with the iPhone as well

as the iPad and iPod touch. This app works in accordance and concurrently with the television show every day to give viewers and fans at home the opportunity to not only view the show but also interact and contribute in voting and reviews of featured celebrities, music countdowns, contests and news. It would appear that it gives you more advantages than actual audience members through the wide range of interactive features and activities it offers. Allow me to run through some very cool features of the 106 & Park app for the iPhone.
106 & Park Features (4 out of 5)
First and foremost, this amazing app provides live coverage of the show everyday from 6 to 8 pm. Once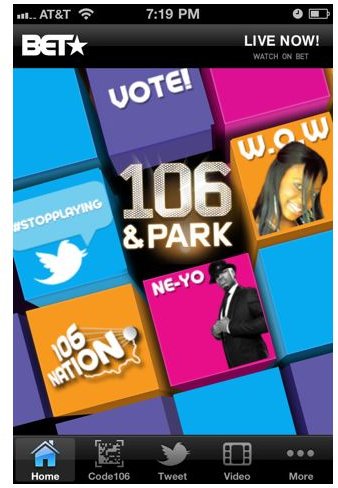 you log into the show through the app you will appear on the '106 Nation' group from where you can be selected to get a call from the hosts Rocsi and Terrence, personally this has not happened yet for me, but I will definitely keep tuning in. On the app's home screen there are updates for the day of everything happening on the show including the new joints (i.e. new music video releases), Twitter topics, featured celebrity guests and special contests and prizes if any. Also, you can select to watch your favorite past moments on the show as well as past music videos right on your iPhone.
106 & Park Functions (4 out of 5)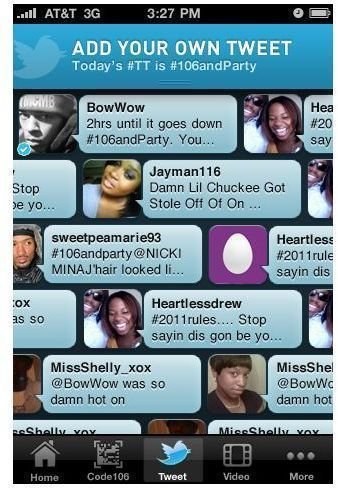 You can interact with the show through the 106 & Park app with Twitter and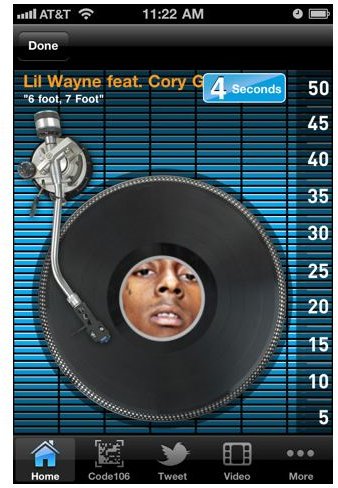 programmed applications like the mobile barcode (code 106) and a record scratching vote counter. There is a live 106 & Park Twitter wall where you can leave a comment, the host may possibly select your tweet then read and respond to you live on the show. It also allows you to pan through and see what other viewers are currently tweeting about as well as follow celebrities, view their tweets and reply if you wish. The mobile barcodes are made available for you to scan and enter daily contests and unlock special videos and photos of musical celebrities featured on the show – I have not reaped the benefits of this feature either but I am fairly new to the show so maybe time will give. Voting through the 106 & Park app is done on a prototype record player that you scratch to rack up votes, you can do as many scratches to vote as many times as you want on your favorite countdown video. Personally, I must have two crooked fingers since I failed at this embarrassingly or perhaps this feature was not that savvy or sophisticated to begin with. You can put your own spin on it and see how it works for you.
Recommendation (4 out of 5)
This is a great app, highly recommended. This is partly due to the fact that the 106 & Park app for the iPhone smartphone is an unprecedented app with practically no suitable competitors. It has an attractive and appealing interface, high quality videos and is thoroughly interactive. You can enjoy video clips of your favorite music videos instead of watching shorter edited versions on the show and view over 70 artist bios, each containing articles, photos, videos and recent tweets. I am awaiting results of one exciting feature where the 106 & Park app alerts you when your favorite artist appears on the show. I can't wait to see Beyonce!
Check out the 106 & Park iPhone App - [Download Link]
References