MeMap iPhone App - What is it?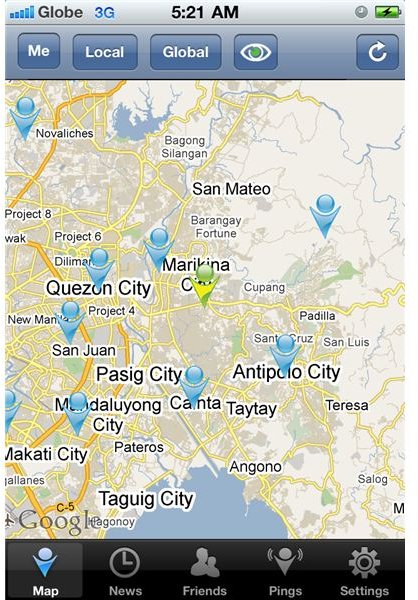 If there's one word to describe the MeMap iPhone app, it has got to be - clever. Clever in several ways. For one, being another social networking app, it is clever enough not to add to users' woes by making them create yet another account for another social networking site. But then, how can it be a social networking app if you don't need to create a new account? Simple - MeMap relies heavily on Facebook Places to pull out the check-ins and activities of your iPhone friends and contacts on their Facebook account. MeMap lets you see which of your Facebook friends are around and perhaps what they are up to. Likewise, you can share your whereabouts with them for as long as they also use MeMap for iPhone.
MeMap iPhone App - Design, Interface and Functionality (5 out of 5)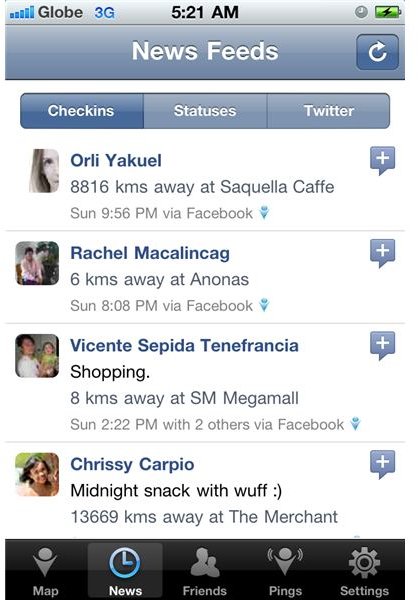 MeMap is very well organized and easy to use. The icons are pretty much self-explanatory and you will immediately know what each can do or what it will give you. The buttons for the most important elements of the app are placed on the upper portion of your screen whenever you are in a specific option or tab. For instance when you are at the app's main screen which is the Map, the buttons on the upper part of your screen give you all the things that you can do while on that Map tab. You can change your status and post updates to your Facebook and Twitter account, Facebook account only, or Twitter account only.
The Check in button lets you check in to where you currently are as well as tag friends who are with you. Your check in will then be posted to your Facebook or Twitter account or both. There's also a button to see badges and rewards that you've earn whenever you have accumulated a number of check ins. On the upper most part of your iPhone's screen you will also have the option to display a map with your friends plotted on it.
The same is true if you select the other tabs in the navigational bar located on the lower part of your iPhone's screen. These options include - news, friends, pings, and settings which are explained in the next section.
Overall, the app's design, interface and functionality leave you with nothing to complain about.
MeMap iPhone App - Features (4 out of 5)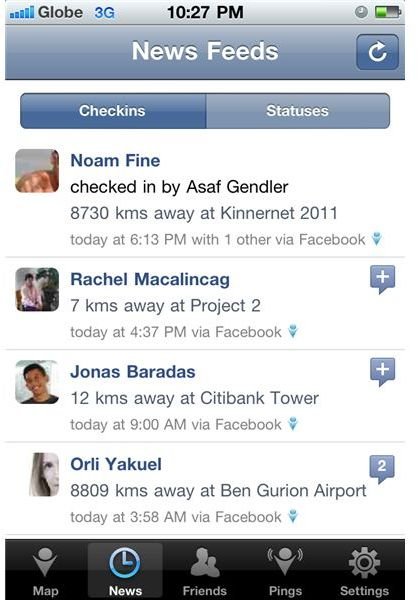 When you fire up MeMap iPhone app after installing it, the default screen will be the Map tabs which we explained in the previous section. The other tabs aside from this include - News, Friends, Pings and Settings. The News tab displays what your friends have been up to recently. It lists your Facebook friend's activities - their Places check-ins, statuses and also your Twitter account's timeline. The next tab is "Friends" and it lets you see the activities of your friends on MeMap if they are also using the app. You can also display a list of your friends and you can check what they have been doing lately. The "Ping" tab simply display messages you received or sent via MeMap. Finally, the "Settings" tab lets you link your Facebook and Twitter accounts to MeMap, select the Map type that you want the app to use, your location privacy, to set e-mail notifications, include you on the MeMap social ranking and to clear the app's cache.
To make sure that the app will not undermine your privacy, the app has its own privacy policy. And if you think that your personal information and privacy is being compromised you can always click on the "Panic Button" and the app will erase all your data.
Our Verdict
As I mentioned, I really find MeMap for iPhone pretty clever. I appreciate the fact that the app did not require me to create another account just to use it. The integration of this app with Facebook and Twitter is very much appreciated since Facebook and Twitter are currently the most widely used social networking services.
MeMap for iPhone is available as a free download from the iTunes App Store.
References