LaDiDa iPhone App - What is it?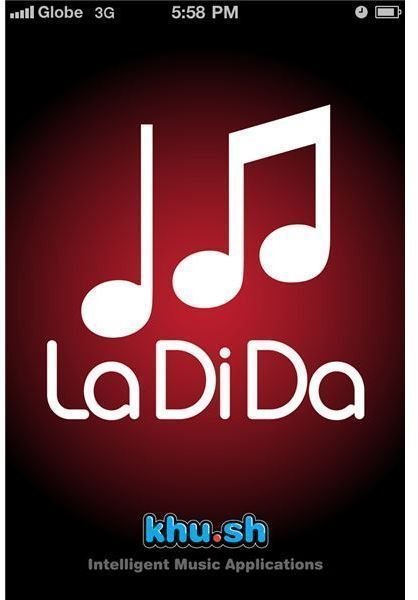 To describe this app simply, it's an iPhone voice recording app that serves as a reverse karaoke. Through some form of artificial intelligence, the app makes you sound like a professional singer as you sing or rap with various pre-set background music to go along with your recording. The app will analyze your voice and apply the most appropriate beat and create your music automatically. With LaDiDa, it doesn't matter if you can't carry a tune or not, the app will fix it up for you and come up with a professional sounding recording of your singing or rapping - complete with a background beat arranged in a very nice way.
Functionality (5 out of 5)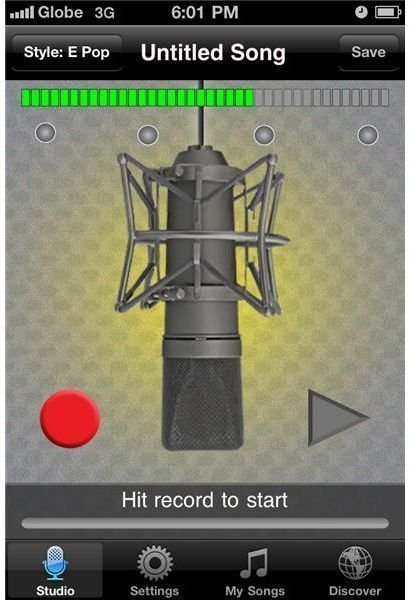 LaDiDa is like having a mobile recording studio that you can use any time, anywhere. If you feel like being creative at a certain moment, just pull out your iPhone, fire up the app and start recording your masterpiece. To do this, the app has two main functions - recording and playback. The first time you fire up the app, you'll see four options on the lower portion of your screen. On the main display you'll see a studio microphone which actually does nothing but give you a sense of feeling like a real recording star. To start recording, you simply tap on the red button and start singing or rapping. Tap on the red button again to stop recording and you'll see the play button highlighted. Go ahead and listen to your first song recording. On top of the screen you can tap on the Style button to select the type of beat that you want to use with your recording. Opposite the button is the option to save your recording. The app's interface is simple and very easy to understand and use. You won't have a hard time using the LaDiDa app.
Features (4 out of 5)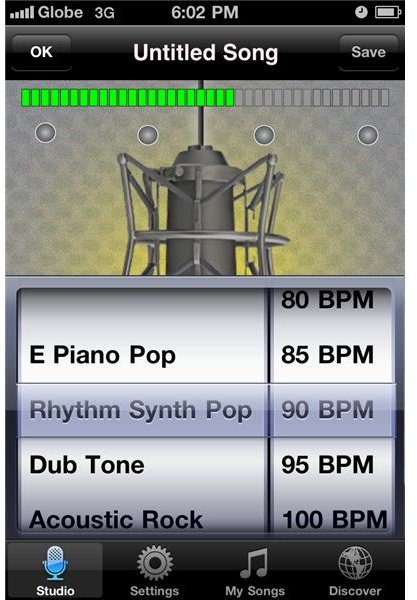 While recording a song, you are given several background music options that you can apply to your voice recordings. You can see these options by tapping on the "Style" button on the top-right portion of the screen. Then you'll be given a scroll wheel containing the different background beats that you can use. These are E Piano Pop, Rhythm Synth Pop, Dub Tone, Acoustic Rock, Unplugged, Bonfire, Guitar Six Eight, Offbeat Strum, Underground Rap, Tasty Breaks Rap, Dirty South Rap and A Capella. You can choose the tempo of these background beats by choosing the Beats Per Minute (BPM).
Just below the app's main screen are four tabs - the three other tabs aside from the main "Studio" tab. These are the Settings, My Songs, and Discover tabs. Settings offers nothing much except for the ability to apply pitch correction, reverb, adjust vocal/music balance and video recording. The My Songs tab displays all your recordings and Discover gives you access to the masterpieces of other LaDiDa users.
Finally, the app also has some social sharing features. If you think your recording is good enough, you can share it with your friends via Facebook, Twitter, as an e-mail link or e-mail attachment, or upload it to the LaDiDa.me site.
Our Verdict
I have to say that LaDiDa is simply an awesome iPhone music app not only because it fulfilled my dream of becoming a recording artist but because it's really a cool iPhone app. You'll love the simple interface that's easy to understand and use, as well as the number of nice features that this app has. You really have to try it to appreciate the coolness factor of this app. And yes, we highly recommend using this app if you want to try another cool app on your iPhone.
References