Review of the iPhone SoundTracking App: Music & Social Media Combined!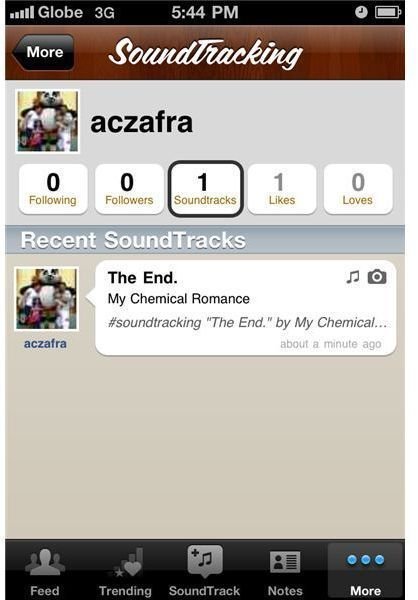 You've probably seen, heard of, or even used several music discovery apps on your iPhone before, that's one side of the SoundTracking app. You've probably used Instagram, FourSquare, Facebook, Twitter and other social sharing apps - well, you can consider the SoundTracking iPhone app as a mixture of those apps but it is centered on the soundtrack of your life. It's like sharing your life's moments through music that you hear and listen to. SoundTracking is a pretty solid, well-built and full-featured music sharing app with a dash of social networking on the side.
Features (5 out of 5)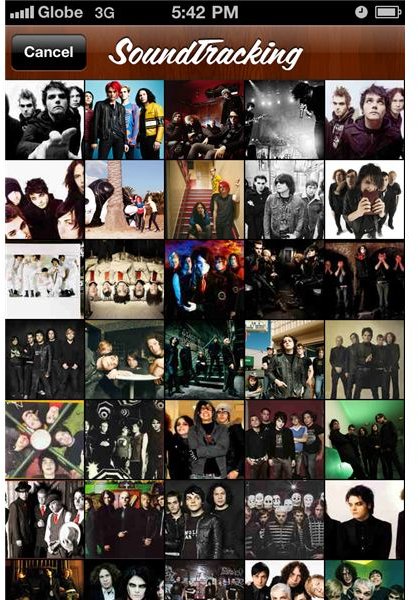 SoundTracking is a full-featured social networking and music sharing app. The app offers an easy, fun and expressive way of sharing the soundtrack to your life, meaning music that plays on your iPod or music that you heard on the radio. With a single tap of a button, you can share this music via playable song snippets, photos of the artist or even your location through one soundtrack.
For its social feature, SoundTracking works with Twitter, Facebook and FourSquare. You can opt to authorize the app to use your account credentials on those three major social networking sites or you can choose only one or two of them. It won't affect the app's performance, really.
The first time you fire up the app, you'll be give four options to navigate the app - Feed, Trending, SoundTrack and Notes. The fifth option, "More" is for the app's various settings. Feed simply displays your own soundtrack as well as your friends' soundtracks. When we say soundtrack we mean, the music that you've just shared with everyone else. Think of this as your SoundTrack timeline. Trending gives you thumbnails of artists whose songs are trending within the SoundTracking app ecosystem. Tap on any of these thumbnail and the app will give you the SoundTracking entry for that song, including the profile name of the person who made it as his/her soundtrack. From there you can like or post a comment. There's also the iTunes link which will allow you to purchase the song from iTunes. The SoundTrack option is of course the main menu of the app. From here you can do a music search, identify the music that is currently playing on the radio, or select music from your iPod library. Notes are notifications whenever someone likes or posts a comment on your SoundTrack.
Functionality (5 out of 5)
The app's performance and functionality are its major strengths. The whole process of soundtracking or posting a music soundtrack is a breeze. The app searches music pretty fast and identifies music playing on the radio pretty accurately. It also posts your SoundTrack to the three social networking sites, Twitter, Facebook and Foursquare pretty well. For as long as you authorize the app to use your account's information, posting your SoundTrack will be very easy from there on.
Our Verdict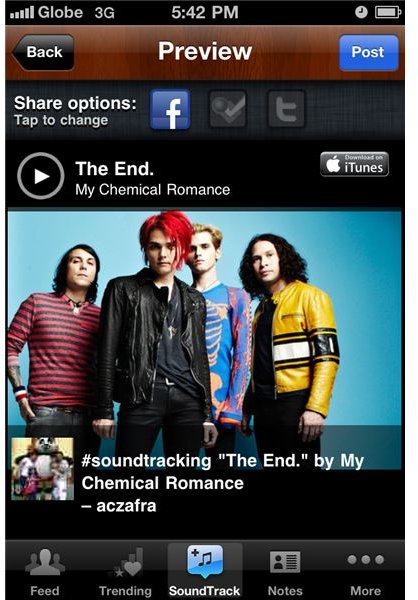 As previously mentioned, SoundTracking is a pretty solid and well built iPhone app. It has many features that will make the process of sharing music that you like or the so called soundtrack of your life easier. I also appreciate its very good integration with Twitter, Facebook, Foursquare and even iTunes for purchasing music. While using the app, I could not help but compare it with Apple's very own Ping which sits right inside iTunes. SoundTracking is very much like Ping although it has more potential to go viral.
But the bottom line here is still whether the app will be able to build a substantial userbase, even if it's only among your circle of friends. It's a good thing that the app integrates well with Twitter, Facebook and Foursqure. This will help the app in gaining some more users.
If music is a big part of your life and you can pretty much say that there is always one song that could speak of what you're feeling right now, or what is happening in your life - you will like the SoundTracking iPhone app.
References