Turn Your to Do List into a RPG with EpicWin!
So you want to be a hero?
These days there are dozens of distractions in our daily lives, and having an iPhone generally adds to the list. In fact, "sometimes it is easier to complete a 40 hour RPG than drag yourself to the gym," says Rex Box Productions. That is where EpicWin comes into your life. This $2.99 iPhone and iPad application revolutionizes a simple to do list, and upgrades it into a role playing game or RPG.
Choosing Your Avatar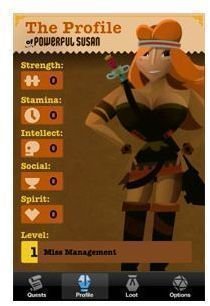 As is the case with any RPG, you start off by creating your own personal avatar. You can choose from a C.E.O. of Pain, an Ent Mage, a Mistress of Task Domination, a Swarthy Dwarven Warrior, or a Skelly Skeleton. The first two cost an additional $1.99 to purchase, whereas the other avatars are free of charge. I personally dished out the extra $1.99 to snag the warrior to ultimately become a C.E.O. of Pain.
Turn your to-dos into quests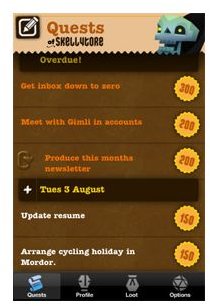 After creating your profile, the rest of the application works just like other iPhone to-do list apps. The list format is separated by days and allows you to create tasks with full features including alarms, reminders, descriptions, and due dates—including a "Someday" for those vague life goals. You can give each task an attribute category (strength, stamina, intelligence, social, spirit) and an experience rating for when you complete the task; ranging in intervals of 50 from 0 experience to 300 experience points.
Overdue tasks appear in an "Overdue" section at the top, and have their text in an orange-red font color.
Completing Quests & Leveling Up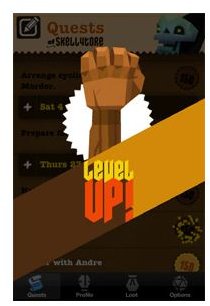 Once you complete a quest—or item on your to do list—you are then awarded the experience points that you designated for the task. After you have accumulated enough experience points, you level up!
I have been using EpicWin for eight weeks now, and I definitely have to applaud RexBox Productions for creating the most entertaining to do list I have ever used. The graphics in combination with the amazing sound effects and background music will easily turn your life into an epic game. If you are like me and love RPGs, then give EpicWin a whirl on your iPhone or iPad and watch your productivity soar!
The Verdict (4 out of 5)
Definitely worth buying. EpicWin makes doing your to do list fun, but what I really like about it is that the quests are in a very neat list format. The sounds of course make everything EPIC, and the graphics are terrific. I think there could definitely be upgrades and improvements to the functionality of the app, such as being able to actually equip or do something with the items you gain, or even just more upgrades and options in general. Being able to fight with other EpicWin avatars would be great too, to add in a little bit of competition and make it more like any other RPG out there. But if you are looking to increase your productivity and RPGs are your cup of tea, give EpicWin a whirl.
References
Screenshots from https://www.rexbox.co.uk/epicwin/media.html